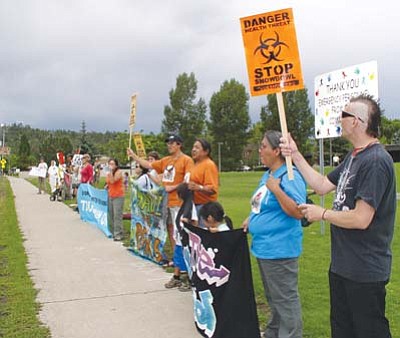 Originally Published: July 13, 2010 11:01 a.m.
FLAGSTAFF, Ariz. - Final clearance by U.S. Department of Agriculture (USDA) Secretary Tom Vilsack on July 1 gave the Arizona Snowbowl the go-ahead to resume with expansion and snowmaking infrastructure on the San Francisco Peaks. The decision disappointed many Natives in the northern Arizona area, and leaves little room for additional legal challenges.
Hopis and Navajos, along with other culturally affiliated tribes who are connected spiritually and traditionally to the San Francisco Peaks, stated that their religious freedom has been violated. However, attorney Howard Shanker, who has represented the tribes in past lawsuits, recently filed a temporary restraining order to block construction.
The approval came as a bit of a shock to Shanker, because the issue was not discussed openly prior to the Fourth of July weekend. His request for the temporary restraining order against any further project movement was filed in court on July 6 with Judge Mary Murguia.
Snowbowl owner Eric Borowsky has said he will now ask the Flagstaff City Council for use of potable water, which would require the city council's approval of a new contract. The council had already approved the sale of reclaimed wastewater to Snowbowl, but this council approval will be discussed in a series of public meetings with the Flagstaff Water Commission starting July 29.
If approved, Snowbowl would be able to tap into the city's potable water system, which will be significantly more expensive than using reclaimed wastewater. It is estimated that artificial snowmaking will use up to 1.5 million gallons of water daily for up to four months a year.
The proposed expansion area, covering approximately 205 acres, would accommodate a 10 million gallon reservoir, a new sledding area, new chair lifts and logging for new trails on Humphreys Peak slope. Logging is intended to widen some of the current trails to the chairlifts.
Also included is a 14.8-mile long pipeline to carry water from Flagstaff to the ski area, 400 new parking spaces, a half-pipe, a pedestrian underpass, a bigger ski lodge, and a new 10,000 square foot building. This is according to information obtained from the Final Environmental Impact Statement for Arizona Snowbowl.
Added costs of pumping water from underground over a 20-year period could amount to about $11 million, which Borowsky says he would fund through a federal grant to cover the cost of the pipeline.
On July 8, the Hopi Tribal Council unanimously approved Action Item 052-2010, stating they would not approve snowmaking in any shape or fashion regardless of the USDA approval. They also gave clear directives to both their Cultural Preservation Office and General Counsel to prevent all snowmaking.
While he was not present at the meeting, Current Hopi Chairman LeRoy Shingoitewa later issued a statement, saying, "If the ski resort remains or is expanded, our people will not accept the view that this is the sacred home of the kachinas."
Former Hopi Chairman Ben Nuvamsa stated, "We Hopit (Hopi people) will always believe in the sanctity of Nuvatukyaovi.  That is why we must fight ... to preserve Nuvatukyaovi even if the legal and political odds are stacked against us. This is our way of life. Our tradition and ceremonies are the basis of our existence and they will continue. We will always pray to Nuvatukyaovi for the blessings it brings us."
He concluded, "I am dismayed at the Obama Administration for its decision to permit the making of artificial snow without properly consulting with the tribes, especially those tribes that hold the San Francisco Peaks sacred. The Obama Administration was touting the Nation-to-Nation relationships and its consulting policy but why did they not live by their word?"