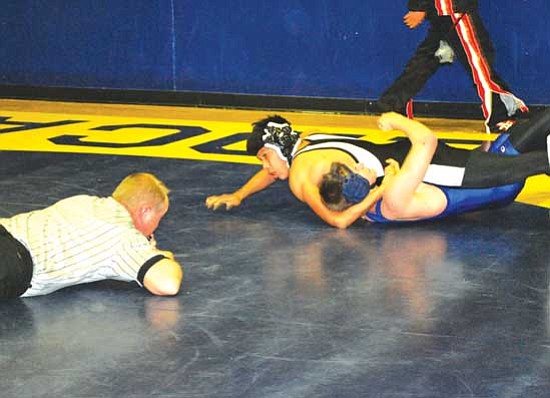 Originally Published: January 21, 2010 3:05 p.m.
TUBA CITY, Ariz. - On Jan. 9, the Greyhills Academy wrestling team competed against 19 area schools in the 2010 Joseph City Invitational at Joseph City High School. They finished 14th overall with 194 points. The Knights also crowned a champion in the 119-pound weight class with Kevin Tso, who finished in fourth place at 171 with Darrell Yazzie and fifth place at 103 with Francita Bitah. Joseph City High School won their tournament, Flagstaff High School came in as runners-up and Camp Verde High School finished in third place to round out the top three.
Tso took the championship in his weight class against Camp Verde's H. Carroll with a 4-2 score. Tso had lost to Carroll in the pool A wrestling the day before 7-3 and went into the championship round as a number two seed. Tso wrestled B. Steck from Bradshaw Mountain High School; Tso won his match with a pin, while Carroll won his match against pool B second seed Moreno from Bourgade Catholic School to set up his match with Tso.
"It was a tough tournament and seeing other ... wrestlers was intimidating, but I remained focused. I knew I had trained hard and was comfortable and confident with whoever I matched up with," said Tso.
Tso is a junior and an honor student with a current 24-4 overall record. Last year Tso placed third in the 2A State Championships.
Francita Bitah has become one of the best wrestlers at 103 pounds this season finishing fifth at Joseph City and second at the Pat Kenny Invitational. She currently holds a 24-3 overall record. A 2009 state qualifier, Bitah is poised to finish strong in the 2A standings this year. A three-time girls state champion, Bitah likes to add a fourth title and has trained harder than ever before for her last year in high school wrestling. She says she can possibly finish high in the 103 state finals. With a quiet demeanor, Bitah's toughness comes on the mat with 19 pins on the season and puts school in her focus. Bitah is also an honor student.
Dropping down from 171 to 160 pounds is sophomore Darrell Yazzie. While in the shadows of his teammates, Yazzie's humble approach is quite different when he is wrestling the best wrestlers in the state. He sets his focus and always ready. Wrestling with intensity helps drive his team to work harder where he is co-captain with Tso. Currently holding an 18-8 record, finishing fourth at Joseph City and Pat Kenny, his close matches pushes his determination even further.
"I'm happy about winning and the competition is getting tougher and more competitive," Yazzie said.
With a strong core of young wrestlers, Greyhills continues to build a varsity program filled with freshmen and sophomores who are beginning to emerge and gain strength as a team. Goals are to continue developing wrestlers. Greyhills would like to compete at every weight class and encourage area feeder schools to continue working with developing wrestlers to prepare for high school competition. Upcoming tournaments for the Knights include the 2010 Tim Van Horn Invitational at Payson High School on Jan. 22-23, and the Mogollon Invitational in Heber on Jan 29-30.