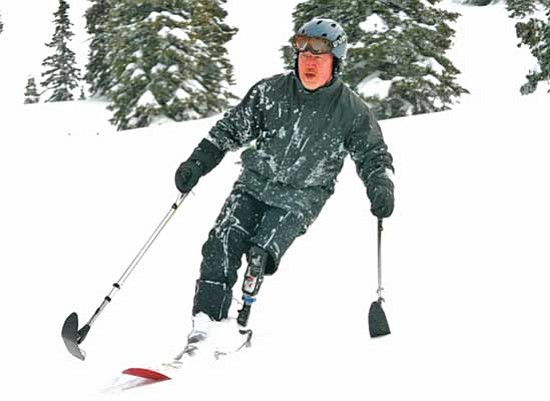 Originally Published: January 20, 2010 3:23 p.m.
Many people, whether they ski or not, dream of the feeling of the wind blowing in their face while hearing the swishing sound of skis gliding over the snow. For the average person, this dream could become a reality with a few lessons. But for someone with a disability, getting there may be much more complex.
Adaptive skiing and snowboarding allows someone with a disability to hit the slopes with different adaptations or equipment. These adaptations might include tethers, outriggers, rider bars for a snowboard, sit skiing or having another skier accompany the rider.
Tethered skiing is using ropes tied to the participant to help adjust speed or help with turning. Oftentimes, tethers are used in conjunction with a harness. Someone with a cognitive disability or someone who just needs a little extra help learning how to control their skis might benefit from a tether system.
Outriggers are poles held in each hand that have small skis on the ends. Outriggers are used instead of traditional ski poles, providing an increase in stability for the stand-up skier.
Three-track skiing uses outriggers and most often the skier is being supported by only one leg - leaving three tracks in the snow. An amputee or some who only support themselves on one leg will use three-track skiing.
Four-track skiing is similar to three-track skiing since the skier still is using two hand-held outriggers, however, the skier uses two skis, rather than one - leaving four tracks in the snow. This adaptation may be used by a person who just needs a little more balance control and support.
Sit-skiing can be either mono-skiing or bi-skiing. Sit-skiing allows the skier to sit in a bucket-type chair while enjoying the slopes. The mono-ski has one ski attached to the bottom of the chair, whereas the bi-ski has two parallel skis attached to the bottom of the chair. When learning to ski with this adaptation, an additional skier would follow the seated skier and would use tethers to help control balance, speed and control. The mono-ski requires a great deal of upper-body control and is ideal for a double amputee or spinal-cord injury below T4. Both the bi-ski and mono-ski can be used by those who have cerebral palsy spina bifida, multiple sclerosis, epilepsy or many individualized impairments.
Adaptive snowboarding is a relatively new outdoor sport with limited adaptive equipment available. One adaptive device is a supportive bar that attaches to the snowboard to supports the snowboard in the standing position.
For more information on adaptive skiing or snowboarding, please contact FMC's Therapy Services Department at (928) 773-2125.
Ariel Coffey, M.S., O. T.R./L., is an occupational therapist, specializing in adaptive skiing and snowboarding. Is there a health topic you'd like to know more about? Please write to Mountain Medicine, c/o FMC Public Relations, 1200 N. Beaver Street, Flagstaff, AZ 86001, or visit FMC's web site at FlagstaffMedicalCenter.com.