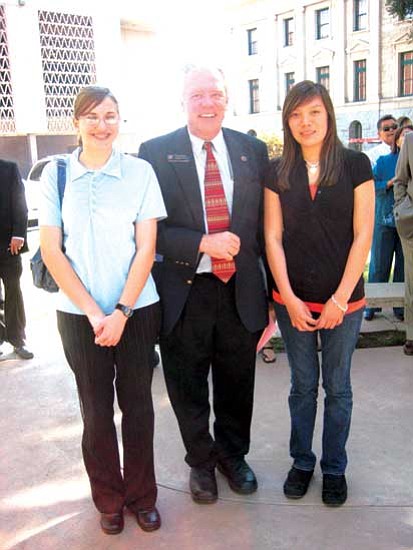 Originally Published: January 20, 2010 1:53 p.m.
PHOENIX, Ariz. - Arizona Gov. Jan Brewer last week threw her support behind nuclear power and uranium mining, including uranium mining near the Grand Canyon. But that didn't sit well with some state officials and environmentalists.
Arizona State Rep. Tom Chabin responded that he wished she would have asked the people living in northern Arizona before taking a position that would impact them.
"It's reckless and unconscionable," he said. "The governor missed the boat."
Rep. Chabin said the governor is more concerned with the Republican primary election than the residents of northern Arizona. He added this is what the state faces as long as it's run by Republicans.
In Brewer's speech, she called nuclear energy safe and said it reduces the carbon footprint. Chabin responded that before nuclear power can go forward something has to be done to address how nuclear waste can be disposed of because it remains radioactive for many years.
According to the Arizona Republic, Brewer considers nuclear energy a consistent energy source with effective costs and no greenhouse emissions.
Chabin, a Flagstaff Democrat, noted that it would take 10 to 20 years to break ground on a nuclear power plant, so it wouldn't impact the current budget crisis.
"The governor's statement is premature and immature. It involves a discussion that we haven't had," he said.
The Arizona Republic reported that any nuclear power development "would have to be approved by the Arizona Corporation Commission and undergo a lengthy federal permitting process."
Chabin said the proposal to mine uranium near the Grand Canyon is particularly offensive because it could contaminate the Colorado River and the uranium industry has left many contaminated sites behind in northern Arizona.
"Everybody should weigh in on this proposal. My vote would be no and that would be a strong consensus in northern Arizona," he said.
Stacey Hamburg, a spokeswoman with the Sierra Club, said every level of government from the county to Congress has expressed concern about or opposition to uranium mining near the Grand Canyon.
She noted that this opposition includes all northern Arizona tribes and the National Congress of American Indians.
"This has been codified in resolutions, testimony, letters, opinion pieces, protests, dance, art and lawsuits," she said in a written statement.
Hamburg said rather than side with the majority who are calling for protection of the Grand Canyon, precious waters and sacred sites that Gov. Brewer "has decided to auction off Arizona's natural and cultural heritage."
Hamburg also said that contrary to the governor's claims that nuclear power is safe or a low carbon emission solution, Hamburg said the entire nuclear life cycle - from mining to milling to transportation to building the nuclear power plant and then dealing with nuclear waste - has severe environmental consequences as well as significant carbon emissions.