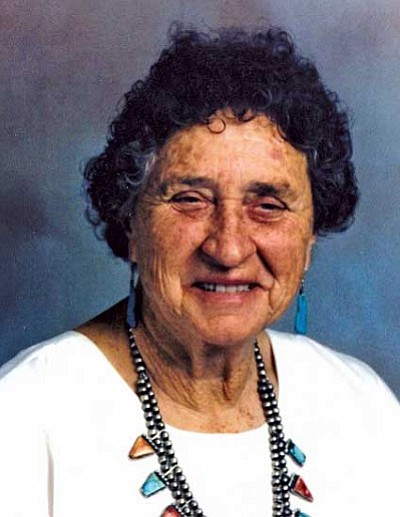 Originally Published: January 12, 2010 12:45 p.m.
Arline Hobson, a lifelong Quaker, enveloped in the bosom of a large and extended family and networks of friends, died Dec. 20, 2009, ending a long and remarkable life of service. She was born Jan. 16, 1918 and after 40 years she had moved from Tucson to Tempe in 2002.
Because of her long familiarity with Native Americans, Arline had been asked and appointed to the position of American Indian Student Advisor in 1969, a full-time position in the University of Arizona's Dean of Student's Office. She held that position until she retired in 1983. Prior to the Advisor's position she was a research associate with Marie Hughes in the Early Childhood Education Laboratory at the University of Arizona. She had taught the previous four years at Safford Junior High school in a special immersion project.
In 1940 she and her husband Arthur Hobson, married in Toronto, Canada and took up work among the Osage Indians in Hominy, Okla. as representatives of Indiana Quakers. After working briefly in New York City, they went to Hunt, Idaho to work with the Japanese at Minidoka with the War Relocation Authority. The end of the war took them to the Navajo Nation where they truly found their spiritual home.
Arline taught in the elementary school at Fort Defiance for 11 years until Art's multiple sclerosis forced a move to Tucson. Arline assumed a heavy burden of care of her husband's health and was largely responsible for the longevity of his life. She and Art suffered, in 1984, the tragic loss of their youngest son Richard to brain cancer, a wound from which they never fully recovered. Arline's Quaker soul was tested over her long life. The death of Art in 1987 left Arline seeking new avenues of service.
The passage of time is not always generous. Aging is not usually easy. Arline should be remembered together with her husband and best friend Art for their commitment to service and to social justice, their joyful adventuring to remote parts of the west and as young people for their love of dancing, something fondly remembered but denied to them in their later years. Yet while they declined physically, their spiritual unity became more profound.
Arline read and wrote prolifically. She was recognized among Quakers and her friends for her wise words, her sharp intellect, her oral ministry and her deeply spiritual writings. She is survived by three children and their spouses, nine grandchildren and ten great-grandchildren. She also had a circle of those she held as part of her extended and spiritual family. All will miss her and pray that she is lifted into the light, perhaps into the loving embrace of her dance partner Arthur.
A memorial service will be held in the manner of the Religious Society of Friends (Quakers) at Tempe Friends Meeting House, 318 E. 15th St, Tempe, AZ on Jan. 16 at 1 p.m. Her burial next to her husband, Art, and son, Richard, will be Jan. 17 at Evergreen Cemetery, 3015 N. Oracle Rd in Tucson at 1 p.m.
Arrangements entrusted to Tempe Mortuary, Tempe.
More like this story