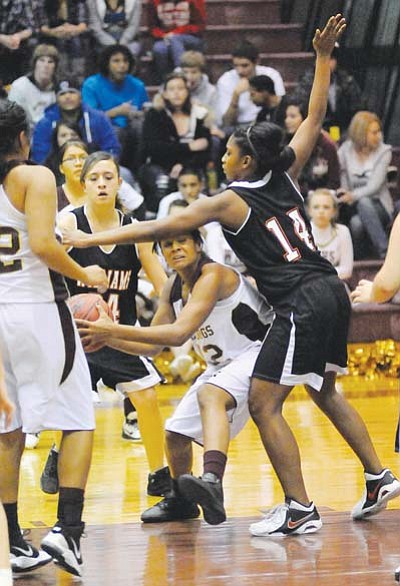 Originally Published: December 21, 2010 6:35 p.m.
WINSLOW, Ariz. - The Winslow Lady Bulldogs easily defeated the overmatched Williams Lady Vikings in the opening round of the Winslow Winter Classic played in Winslow on Thursday. The win improved Winslow's record to 7-3 going into Friday's action.
The Lady Bulldogs earned a berth in a quarter final game on Friday against then Hopi Lady Bruins, 39-34 winners over the Greyhills Lady Knights. The Lady Bulldogs already own a victory over Hopi in regular season play.
The Lady Bulldogs held Williams scoreless in the first quarter and led
30-0 going into the second period. The Lady Vikings went nine and a half minutes before scoring and trailed 49-7 at the half and 70-13 after three quarters. With Winslow leading by more than 30 points, the fourth quarter was played with a running clock. Again, the Lady Vikings did not score in a period.
Tatum Charley was the only player in double figures with 12 points for Winslow but the Lady Bulldogs had all 13 players in uniform score. Alma Hernandez led the Lady Vikings with six points.
In other Thursday games The Tuba City Lady Warriors defeated the Pinon Lady Eagles 73-39, the Monument Valley Lady Mustangs beat the Chinle Lady Wildcats 47-36, the Window Rock Lacy Scouts defeated Fort Wingate 55-44 and the Joseph City Lady Wildcats punished the Ganado Lady Hornets 55-17. The Holbrook Lady Roadrunners ran over the Snowflake Lady Lobos 54-19 in a game between teams that drew a first round bye and were both to play in the winners' bracket on Friday.
Friday winners' bracket games were Winslow vs. Hopi, Tuba City vs. Snowflake, Holbrook vs. Monument Valley and Window Rock vs. Joseph City.