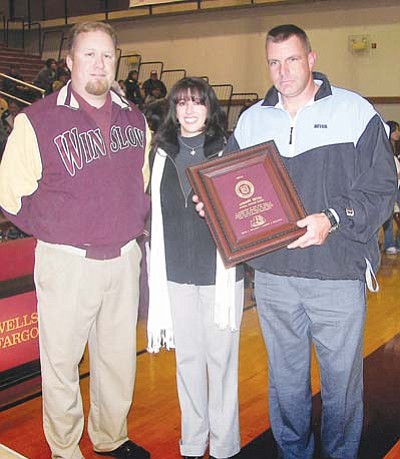 Originally Published: December 21, 2010 6:27 p.m.
WINSLOW, Ariz. - Gordon Beyer graduated from Fishburne Military School in Waynesboro, Va. in 1985 and attended The Citadel in Charleston, S.C. for the following two years. After a year at North Georgia Military College in Dahlonega, Ga., he started out in his family's business managing and later owning several New York delicatessens.
Beyer had a dream as a child to become a state trooper and decided to pursue his dream in December 1997. He was hired on with the Arizona Department of Public Safety upon graduation from the academy and was offered many different locations throughout the state of Arizona. He wanted a small town to raise his family with strong community involvement and thought Winslow would be perfect.
Since then, Beyer has rallied the community to raise money for the multipurpose fields and has helped with numerous "odds and ends" around the high school. He has served the community well as a police officer keeping our streets and highways safe.
Beyer's list of accomplishments are many, but are highlighted by his participation in Bonnie Brennan's Red Ribbon-Drug Awareness Week, teaching Drivers' Education, the Winslow Warriors Lacrosse team and serving two years as Vice President of the Emil Nasser Foundation.
At the end of this month, he will be transferring to Tucson.
Winslow High Principal Chris Gilmore commented, "Gordon, we appreciate all that you have done for the school system and the community of Winslow and rest assured, you will be missed by all."
More like this story