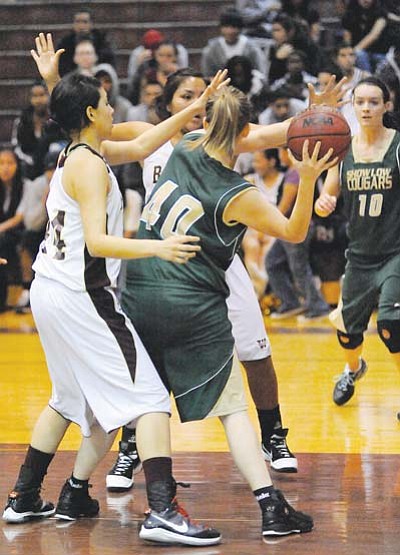 Originally Published: December 14, 2010 3:01 p.m.
WINSLOW, Ariz. - The Winslow Lady Bulldogs blistered the Show Low Lady Cougars 78-24 in a non-regional basketball game played Dec. 8. The win left the Lady Bulldogs with a 4-3 record for the season. The team will be heading into the Winslow Winter Classic Tournament to be played on Thursday, Friday and Saturday.
The Lady Bulldogs established a double digit 21-8 lead in the first quarter and were never threatened as their pressure defense kept Show Low from scoring in double digits in any quarter. The margin was
37-17 at the intermission and 63-20 after three quarters.
Tatum Charley and Taramika Lee led all scorers with 15 points each for the Lady Bulldogs. Corey Nez was in double figures for Winslow and Mallory Smith, Mattea Begaii and Gabby Stacey all three scored nine for the victors. Giselle Childs led Show Low with eight points and was the only Lady Cougar with more than five points.
There was no boys' game and the Winslow Lady Bulldogs junior varsity also won decisively 43-15.