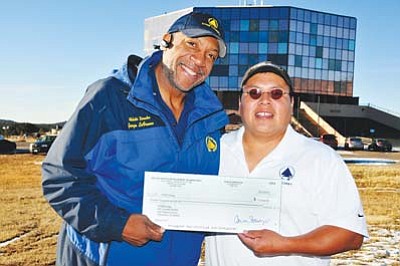 Originally Published: December 14, 2010 2:47 p.m.
TSAILE, Ariz. - Christmas came early for the Diné College Archery team. They recently received a check for $13,000 to upgrade their aging equipment. The funds were generously donated by the Easton Sports Development Foundation II of Van Nuys, Calif.
George LaFrance, Diné College Athletic Director stated, "I just want to say thanks to the Easton Grant Foundation. This grant will allow us to buy more equipment for our team. Our team is growing and we needed more equipment because of the increase in our Archery Team. Again thanks to the Easton Grant Foundation for their financial help."
Fray Gray, Diné College Head Archery Coach added, "The Easton grant itself stands for their commitment for excellence in all aspects of every sport regardless of its popularity. I am honored that a great foundation such as Easton would select and entrust their gracious support to the Dine College Archery Team. Anthony Goldtooth and I have worked diligently through many hours to put together the grant proposal for consideration to help us with a much-needed upgrade of our outdated equipment to current standards."
Gray continued, "We are the only all 100 percent Native American, Junior College and most remote Archery Team competing with Division I universities. Our competitors consist of Universities such as Penn State, USC, Stanford, UCLA, Texas Tech, Texas A&M and James Madison just to name a few. I feel with this grant we are given a great opportunity to not only become more competitive but for our archers to have that experience of shooting alongside these great universities. I want it to be known that each of our archers have shown why Diné College creates well rounded individuals who not only gain athletic skills, but also have doors opened to them to reach new goals in their educational endeavors."