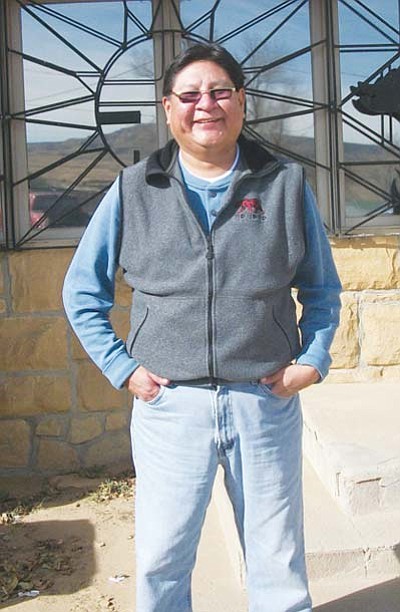 Originally Published: December 14, 2010 5:48 p.m.
KYKOTSMOVI, Ariz. - On a recent day in Hopiland, Bert Poley was enjoying a long-awaited vacation. Poley has worked in Albuquerque for the last five years as the manager of Native Voice One (NV1), a distributor of Native radio to stations across the country. One of the more popular shows that he distributes is Native American Calling, which can be heard on KGHR and KUYI locally.
Poley has come a long way from his quaint beginnings as one of the first radio deejays on KUYI to working at KNAU in the classical music genre to being station manager at KUYI. Poley stated "I was part of the first training class and learned the basics of radio."
Before that he was a kachina doll carver, but hasn't carved in nine years. He says "it's a good career field for students to get involved." In an interview done by Hopi High School radio class students he encouraged students to "follow their passion and not to let anyone discourage you from your dreams. It is also a good way to get over shyness."
Currently, Poley is quite busy helping new radio stations from Idaho to New York City get established. He works closely with non-commercial education radio or public radio stations. Many stations need construction permits to build the stations as well grants to purchase the equipment. His experience at KUYI helps many of these entities. He states, "If I don't know the answer, then chances are I know someone that does."
He states there are currently 30 Native radio stations currently being established, adding that it is very promising to have so many stations built to help NV1 generate revenue.
Recently some of the funding from the Central Broadcast Systems has been cut due to the economy he has seen his budget slashed, so he is actually the only full-time employee at NV1. That is why he had to wait five years to get his vacation.
Poley noted that there may be some different programming coming to NV1 soon. In the near future there will be a powwow show from KWSO in Warm Springs, Ore. that will play nothing but powwow songs. "Many stations have been asking about a powwow show so that is something coming next year," he said. Many have also expressed interest in sports programming as well which is one project he is currently working on.
"When I first started at NV1, I had only a handful of stations broadcasting. Now, in five years, I have 100 paying radio stations." That is quite a feat for Poley. He says that someday he would like to maybe come back home and teach students about radio programming.
He recalled the beginning of Hopi radio as a group of friends listening to music and talking about starting a radio station. Gradually research was done and the idea became reality. Susan Braine approached him about working at the radio station and wouldn't take no for an answer so he says he got "dragged to the radio station even though he didn't want to go."
But it paid off now since Poley is now a leader in the Native radio field.
He says that he had a tough time learning to speak Hopi since he grew up off the reservation. He learned some Hopi and tried it on air. People made fun of him, but he persevered.
"I didn't listen to what they said he kept doing what he was doing" he says.
He noted a time when he worked at KNAU the classical music station and he had to get voice coaching to be able to pronounce the words "Tchaikovsky" and "Beethoven" correctly. He also recalls when he went to a function, a lady was excited to meet him, so when he went out to meet her, the lady told him, "No, I want to meet Bert Poley," upon noticing he was a Native American. So he has experienced both sides of the spectrum.
For more information on Native Voice One, visit NV1.org.
More like this story