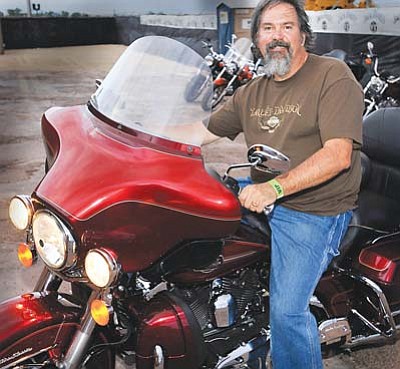 Originally Published: August 31, 2010 2:10 p.m.
WINSLOW, Ariz. - The first annual PT's Motorcycle Rally was held in Winslow during the weekend of Aug. 27-28. There was plenty of music, a bike contest, a bike show and barbecue lunch and dinner. The events were held at PT's Bar located at 1500 E. Third St. Other events included a motorcycle parade through downtown Winslow and cruises to the Painted Desert and other local sites.
Early Friday evening already had a turnout or more than 25 motorcycles. The bikes were almost all Harleys, but any brand of motorcycle was welcome. Some bikers were from out-of-state. A few brought their motorcycles in trailers but most rode their Harleys to the event.
The host for the rally was Tom McCauley, owner of PT's and a local contractor. He expects to have this motorcycle rally as an annual Winslow event, so look for this event again next year.