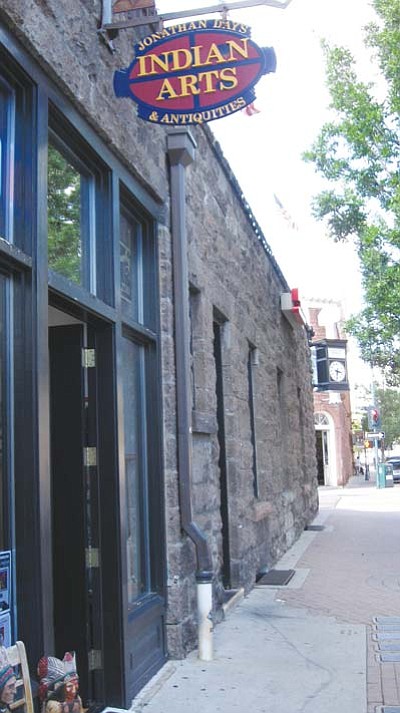 Originally Published: August 24, 2010 4:57 p.m.
FLAGSTAFF, Ariz. - Jonathan Day's Indian Arts and Antiquities located in Flagstaff is one of a few businesses in Flagstaff that specializes in antique Native American art. Located at 21 N. San Francisco St., the store has been open for approximately seven years.
Store owner Jonathan Day grew up on the Hopi Reservation and has been in the trading business since his early childhood when he sold his first kachina carving for Winter Sun Trading Company. His father Joseph (Anglo) and stepmother Janice Day (Hopi) own the Tsakurshovi shop in Shungopavi.
Over the years, Day has developed a great respect for the Hopi traditional arts and is very respectful to the sanctity of some artifacts, says sales representative Dannae Mahape, Hopi, from Lower Moenkopi. According to Mahape, Day sells mainly Hopi artifacts and Navajo rugs as well as antique Pendleton blankets, new and antique kachina dolls and plaques. Mahape adds that some pieces are from as early as the 1920s. Many of their clientele are collectors of authentic antique items as well as contemporary art.
Mahape stated that the store gets visitors from all over the world. Visitors from as far away as Germany and Australia come to shop. Sometimes tourists stop in to take a look at the items. Obviously summer is the busiest season because of the good weather, but gets slow in the winter.
Mahape acknowledged that Day buys from local artists most of the time as well as from some collectors. He is aware of items that may be off limits and doesn't purchase anything he isn't comfortable buying. He has written a book called "Traditional Hopi Kachinas: A New Generation of Carvers." The store has other reference books on kachina dolls and Native arts, which is a good resource for anyone interested in Native American art.
According to Mahape, theirs is the only store locally that carries antique items. Day attends different shows to collect items for his store and was scheduled to attend the Santa Fe Indian Market in New Mexico.
For more information about Jonathan Day's Indian Arts and Antiquities, visit www.traditionalhopikachinas.com, e-mail info@traditionalhopikachinas.com or call (928) 779-6099.