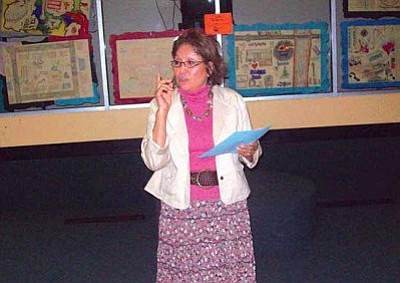 Originally Published: April 30, 2010 11:24 a.m.
TUBA CITY, Ariz. - In the past couple of weeks there have been public hearings regarding Title VII. Many wonder what it all entails. The public hearing at Greyhills Academy was presented by Dr. Tanya Gorman Keith from the Federal Projects Office at Greyhills Academy. She informed the attendees that Title VII is federal funding that goes to schools that have Native American students.
Title VII grant funding is based on best practices and researched based strategies. Sometimes a whole year of data and research has to be accumulated before programs can be implemented. Title VII programs at Greyhills also have to be tied to the school mission. Specifically, funding is based on enrollment, and since enrollment dropped this year at Greyhills, there has been a 30 percent drop in funding to approximately $67,738 for the upcoming school year. Some of the programs that are funded include summer art programs for the students, Diné culture and language studies and multicultural events.
One such event was International Week where a group of Mongolian students came to Greyhills for a week. That same week, there was a Taiko Japanese drumming presentation. Apache crown dancers and Asian Pacific dancers from the school staff were also invited to put on performances.
Another program that was implemented was the Native American Speaker series where numerous professionals spoke to students and gave insight into various career opportunities. Presenters included the owner of the Kayenta Burger King, a Native doctor, comedian James Junes and military members among others.
Another aspect of Title VII funding is experiential learning. The students used a field trip to Canyon de Chelley to explore skills in fields such as geology, math and archaeology. About 40-50 students attended; the trip would not have been possible if it wasn't for Title VII and I funding.
During the day surveys were given to determine the direction the school would like to take, based on parent and teacher response. Keith advised that based on preliminary responses she found attendance, reading and experiential learning were areas of priority. Keith stated that she wants to enhance the summer program not just to address credit recovery but include career and cultural education. She also wants to broaden the experiential learning and find out what activities and what factors affect attendance.
Keith also emphasized creating programs more appropriate to Native Americans and get away from the "one size fits all" models. She mentioned creating programs based on the holistic values of Greyhills Academy. This is an ongoing process that incorporates benchmarks and data that are constantly being collected. Based on survey results she sees issues like dropout reduction, career preparation, field trips and engaging families as ways to make students ready to go into the world inside or outside the reservation.
Based on feedback from the Parent Advisory Committee, parents would like to see their children more technologically inclined. During the 2010-2011 school year, Keith will research and determine what can be implemented. Since this is a federal program and funds are tight, more emphasis is placed on results to make sure funds are being utilized to the best advantage.
The data has to back up the results, so each program has a measurement to be attained such as improvement of grades, increasing graduation and attendance rates and maintaining enrollment that need to be met to keep programs intact.
For more information, contact Keith at the Greyhills Federal Projects at (928) 283-6271, ext. 133.