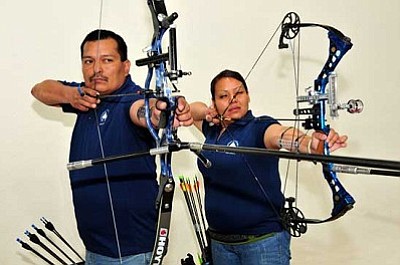 Originally Published: April 30, 2010 11:35 a.m.
TSAILE, Ariz. - Diné College Archery Team Head Coach Anthony Goldtooth and Assistant Coach Fray Gray are pleased to announce that second year archer Duane Hanley has been named Academic All-American.
With a GPA of 3.11 and finishing in the top 25 percent of college re-curve shooters, his coaches believe he has an excellent chance of making the top 10 at the Outdoor Archery National Championship in College Station, Texas next month.
Samantha Yessilth, captain of the women's compound team, also finished two places out of the 25 percent in her division. Her coaches also believe she still has a great chance to make All-American with a good outdoor score at nationals in May.
"Hanley is one of the team captains and is a symbol of dedication for success in whatever he decides to pursue with his career as a student, athlete and parent. He is a very hard and stubborn person in regard to his determination in succeeding and not settling for a mere average result. Yessilth is also another captain whom I depend on a lot but, always does what is asked of her, all the while maintaining her competitiveness and educational career. I personally could not have trained the team if it were not for her assisting me in all aspects of the sport. These two archers emit the success, determination and dedication needed to accomplish all goals that they have begun at Diné College," said Fray Gray, Assistant Archery Coach.
Hanley, from White Cone, is Kinyaanii, born for To'heedlini. His maternal grandparents are Ashiihi and his paternal grandparents are Ta'chiinii. His parents are Ben and Ann Hanley. He is currently a student in the Elementary Education BA program at Diné College.
"I have been shooting for the Diné College Archery team for about a year and a half," Hanley stated. "I shoot in the Re-curve division, which is similar to the traditional bow set up. It has been a great experience for me; it has relit the competitive fire within me. I went into the sport to relieve stress and for physical activity. I surprised myself a lot my first season because I shot against bigger Division 1 schools (ASU, Texas, James Madison, Penn State College, etc.) and I finished 23rd in the nation. I missed Academic All-American during my rookie season by .02 on my GPA so, this year I made a commitment to make the qualifying grade and to shoot the minimum score required. A lot of competitors I shoot against have been shooting since junior high so I guess you could say I have a knack for the sport."
"Through archery I have met many people and it has taken me to new places. I shot in Las Vegas at the World Archery Festival in February and placed in the top ten in the college division. In fact, this weekend I earned third place - and a mean sunburn - at the Arizona State Archery Championships. In two weeks the Diné College team will travel to Long Beach for the Western Regional Championships. In May, we will travel to College Station, Texas for the Outdoor Nationals. I am grateful for my coaches and teammates. The support system from my coaches and teammates has much to do with my success to this point. Diné College has helped me to succeed both academically and spiritually. When I shoot, I shoot for all the people who have supported me through out my endeavors, I shoot for my family, I shoot for my two sons who have sacrificed time with Daddy so he could practice during various weekends, and finally, I shoot for my college and all faculty that have invested time into me academically," he concluded.
Yessilth, 21, is from Keams Canyon. Her clans are Big Water, born for Red Running into the Water clan. Her maternal grandfather's clan is Red House, and paternal grandfather's clan is Towering House. She is the daughter of Dolly Yessilth.
"It has been two years now that I have been shooting in the sport of archery. I got into archery when I first started attending Diné College. I didn't know anything about archery, but I decided to try it out and ended up loving it. I first started on a basic re-curve bow and then later on, switched to a compound bow. I never knew that archery was an Olympic sport let alone still being used today. Now that I know archery is still alive, I have become more active in the sport. I have recently participated in the World Archery Festival held in Las Vegas, Nev. and took third with two of my compound teammates in the Collegiate Division for the Women's Compound Team. I have also participated in the Duel of the Deserts in Long Beach, Calif. where I got the chance to represent my college, state, and people. In my upcoming tournaments I will be competing in the 2010 Arizona State Outdoor Championships, 2010 Arizona Cup, and the 2010 Western Regional Intercollegiate Archery Championships. Archery to me is something that I love to do and I will continue to do so in the years to come," she stated.
Yesslith added, "I am serving as captain for the Diné College Archery Team for the second time. I would like to thank God, my family, my friends, my teammates, and especially my coaches Anthony Goldtooth and Fray Gray. They have just been so supportive and I still can't believe that have I come this far in archery."
For more information about Diné College's Archery program contact Cliff Johns at (505) 368-3623.