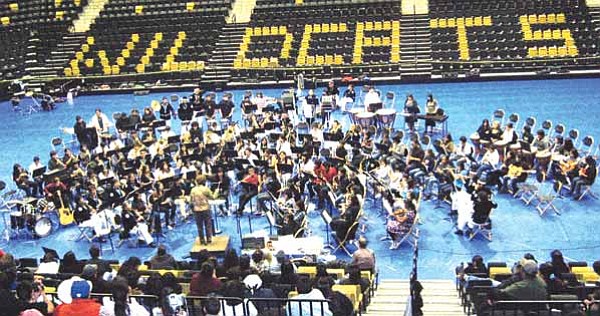 Originally Published: April 20, 2010 2:43 p.m.
CHINLE, Ariz. - For a fourth year in a row, Chinle High School music teacher and musician Eric Swanson organized a weekend of musical workshops and performance experience for Navajo, Hopi and Apache student musicians. The event included playing a full concert along with the Navajo Nation Band as well as being treated to a special guest performance by world renowned Navajo flute player, Jerome Jim.
Over 300 community members, parents and visiting public came to the fest with 140 students combined playing in a final concert setting.
The day-long event was held at Chinle High School. The final concert was held on two stages in the Wildcat Den sports complex. This was the first time that the Diné Music Fest had high school music students participating from Hopi and Apache areas.
Swanson feels its extremely important to offer local Native students who live on Indian reservations an opportunity to have tutorials and workshops, much like private lessons, and then apply these newly learned skills in a full concert performance with students from other area high schools.
Sponsoring music teachers from each high school also had a chance to perform with one another. This year, they included Michael Glynn of Ganado High School on trumpet, Ryan Kijanka of Monument Valley on bass and Swanson on guitar.
Also featured during this combo was Jim, fresh from his latest CD release earlier last fall as the Navajo Nation Tribal Band out of Window Rock, featured during the evening performance.
Jim gave a special solo performance and got a standing ovation for his piece, titled, "The Water is Wide."
Hopi High music teacher Tom Irwin, who is fairly new to Hopi High School, brought his Hopi High Jazz Band, which got rave reviews from the attendees at the weekend workshop performance.
The final 140-piece Diné Fest Concert Band was comprised of Native music students from Chinle, Hopi, Ganado, Monument Valley and Alchesay High Schools in three levels of music discipline - Beginning Band, Advanced Band and Guitar.