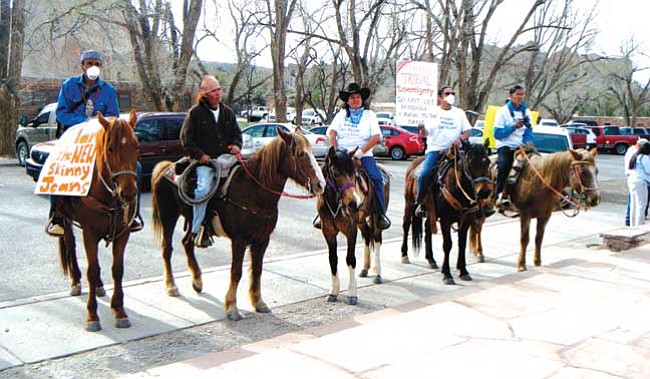 Originally Published: April 20, 2010 1:37 p.m.
BLACK MESA, Ariz. - Residents from Black Mesa arrived last Saturday evening in St. Michaels following a three-day, 100-mile horseback ride from Black Mesa en route to Window Rock.
The ride was intended to send a message to the Navajo Nation Spring Council session, which began April 19, that the voice of all tribal members and the future of Black Mesa should be fully considered in current coal royalty negotiations with Peabody Coal. Riders and supporters rode and marched to the Navajo Nation Council Chambers on Monday and conducted a press conference at the Window Rock Tribal Park.
Many residents have expressed increased concern over the exclusion of community input in current coal royalty negotiations (aka "The lease Re-Opener") between the Navajo Nation and Peabody Coal Company. In the past month, Black Mesa residents have hosted a series of community meetings to discuss the health of Black Mesa and the need to address the leadership of the Navajo Nation. The ride is the next step to bring those concerns to the Council.
"This horseback ride reflects a long tradition of how leaders use to travel to carry important messages from the communities that they represent to gatherings like the Navajo Nation Council meetings," stated Marshall Johnson of the Tonizhoni Ani (Beautiful Water Speaks). "If the leaders who are negotiating on behalf of our water and homelands cannot come to our communities to explain to us what they are deciding, then we will [go] to them."
According to the lease agreement, "the 1987 Amendments provide for a Re-Opener to negotiate increased royalty rates and royalty-tax caps for each successive ten-year period after 1987." The Navajo Nation coal royalty rate is currently 12.5 percent under the 8580 Lease (which covers a portion of Peabody's Kayenta Mine Operation on the Navajo Nation), and 6.25 percent under the 9910 Lease (which covers both a portion of Peabody's Kayenta Mine and the now-closed Black Mesa Mining Operation with shared ownership of coal reserves between Navajo Nation and Hopi Tribe).
In 1993, the Navajo Nation initiated a lawsuit against the Federal Government for $600 million in damages from decades of below-market royalty rates. In April 2009, after years of conflicting decisions and appeals, the U.S. Supreme Court ruled against the Navajo Nation.
"For 14 years, the official position of the Navajo Nation was that it deserved at least a 20.5 percent royalty rate. Now, Navajo Nation leaders are trying to ram through another 10-year agreement with Peabody at the 12.5 percent rates. If the Navajo Nation is really concerned about economic prosperity, why are they negotiating at rock bottom rates?" asked Nicole Horseherder of Tonizhoni Ani.
On April 1, the Navajo Nation Council held a work session on the Peabody coal lease Re-Opener. Presenters included representatives from Peabody Coal Company, United Mine Workers, Division of Natural Resources and Black Mesa United.
"It's unfortunate that the Re-Opener work session only had one group representing the views of some Black Mesa residents, but excluded hundreds of voices of community members who are concerned about Peabody's coal mining operations and how it has impacted them," said Marie Gladue of Voices of the People. "We need to be at the table because we are the ones who have to live with these consequences."
An Environmental Education Forum was held at St. Michaels Catholic Church grounds all day on Sunday. The Environmental Education Forum aimed to educate Navajo citizens and tribal leaders about the Peabody Re-Opener, alternative energy and green jobs.
Testimonials from community members from Black Mesa and other parts of the Navajo Nation struggling with environmental issues were given.