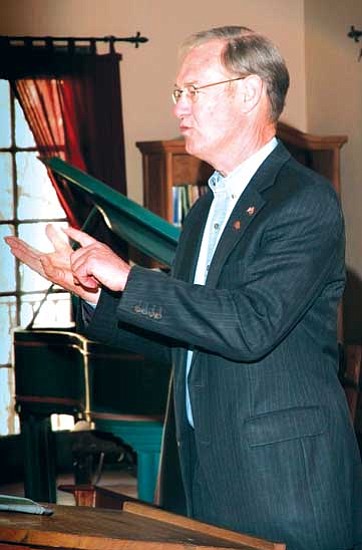 Originally Published: April 13, 2010 5:18 p.m.
WINSLOW, Ariz. - Arizona Attorney General Terry Goddard took his campaign for governor of Arizona to Winslow last Wednesday when he spoke to a large number of residents of the area at the picturesque La Posada Hotel.
Goddard had announced his candidacy officially only days before coming to Winslow. He is the son of former state Gov. Sam Goddard and past mayor of Phoenix.
Goddard's main themes were putting Arizona back to work, bipartisan cooperation in the state legislature and increased emphasis on support for Arizona's public education system.
In general, Goddard's main principles for putting Arizona back to work were support for job creation in renewable energy, optics, pharmaceuticals and biomedical technology; creation of a public-private economic development advocacy organization; targeted tax credits; and tax cuts to stimulate industry.
He emphasized that the state needs to work to restore the 300,000 jobs that have been lost during the recession and rebuild the state economy. Members of the audience asked him about the prognosis for the closed state parks and rest areas. He expressed his concern and stated that it was illogical to reduce the attractions that bring people to Arizona as tourists. He was asked about the feasibility of privatization of closed state facilities. He didn't rule it out, but was more concerned about how to preserve the Arizona heritage sites.
Goddard said that the gridlock that now keeps the government from solving difficult problems was not always the case. He said that former Arizona Senators, Republican Barry Goldwater and Democrat Dennis DeConcini had worked well for the state and the country. Representatives Rhodes and Udall had also worked together despite being from different parties. He told of Burton Barr, a Republican legislator and candidate for the nomination for governor, who had worked for him when he was mayor of Phoenix for a nominal $1 a year salary for the benefit of the city. He said he would work to restore that kind of cooperation and civility to the state government when elected.
He did not downplay the seriousness of the problems Arizona faces, but said that realistic solutions are needed.
Education was also presented as a priority for the Goddard administration, in particular, increased support for Arizona's public education system and the need for increased tax revenue to prevent more teacher layoffs. Goddard was concerned about expanding class sizes having a negative effect on education quality, stating that it is difficult to attract top notch industry if you don't have excellent school systems.
The meeting was attended by a number of local officials and candidates including Winslow Mayor Robin Boyd and council members Marsha Juergens and Harold Soehner. Navajo County Sheriff K.C. Clark and Treasurer Manny Hernandez were present as was Legislative Candidate Bill Shumway.
Regarding local and county governments, Goddard said that some legislators brag about never raising taxes but are not hesitant to pass the necessity for a raise of local taxes if needs are to continue to be met. Cuts in some state expenses are necessary, but it should be done with awareness of the consequences and the realization of what its real costs will be. As an example, he explained how several recent changes would actually cost the state more in the long run that they were supposedly saving.
There was a period of questions from the audience during which Goddard answered all who asked about a wide variety of issues. About 60 voters were in attendance.