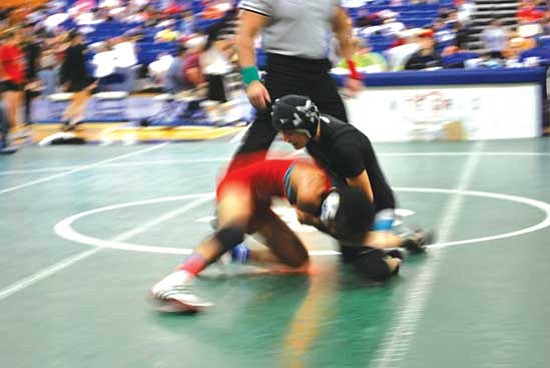 Originally Published: April 6, 2010 10:50 a.m.
OKLAHOMA CITY, Okla. - The 2010 USAW Girls Wrestling National Championships were held at the Abe Lemons Arena on the Oklahoma City University campus where Greyhills student and 109-pound wrestler Francita Bitah competed for a shot at a national title. Bitah, a senior at Greyhills Academy High School from Tonalea, wrestled under Nashdoi (Wildcat) Wrestling Club at nationals.
Bitah possesses an impressive resume as a four-time Arizona Girls State wrestling champion. She was seeded fifth in the 109-pound bracket, which featured 23 of the best female wrestlers in the U.S. When asked about how she felt, Bitah said, "I expected to wrestle girls that could wrestle. It was tougher than any of the girls I have ever wrestled."
After a first round bye Bitah wrestled Jenna Pisarski (fifth place) from Texas losing 8-2 and dropping to the consolation bracket. On Saturday's second round match Bitah edged Courtney Mefford from Wisconsin (Sauk Prairie Wrestling) 8-5 to face Colorado's Megan Garcia in the quarterfinals. Bitah pinned Garcia 45 seconds into the first period to end the match.
With one win away from securing a medal, Bitah would square off against Tamara Tillman (eighth place) California (SD Hot Beaches). With a 4-4 tie in the closing seconds of the third period and Bitah in the top position, Tillman made her move near the edge of the mat with a two-point reversal to win over Bitah 6-4. Hopes of placing at nationals faded with a whistle to close out a brilliant high school career.
Bitah, however, finished in the top 10 - a very respectable finish in the 109-pound weight class.
With family and coaches at her side in full support, Bitah represented her family, Greyhills Academy and the Diné Nation well. Bitah was the only Native American to participate in this year's high school nationals.
"It was a good experience and mentally I tried to stay positive and thought of moves in my head, I got two wins at nationals and [was] the only Native [American] there. Plus, I furthered my wrestling career. I feel good about those," Bitah said.
It was an great learning experience for all that were involved. Bitah's parents Frank and Lula Bitah were excited about the travel to Oklahoma. "We have never been here so this good for us," they said. The experience made the 1,700 mile round trip worthwhile.
Bitah hopes to continue her role in wrestling following graduation, saying she would like to start coaching at the middle school level someday. Bitah's suggestion to future wrestlers and national participants is to lift weights and get in excellent conditioning shape as she found out how tough mentally and physically girls' wrestling is becoming.
Bitah's only losses to any female wrestler in her career came at nationals. To a fine career and an excellent ambassador for the world of wrestling and Native American athletes, Bitah's future looks very positive.
"I want to thank all my coaches, my parents and family and those whose support I received to help my dream to be part of nationals possible," she concluded.