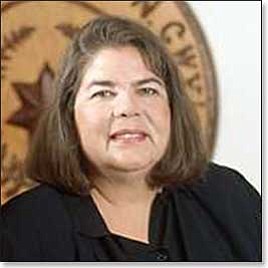 Originally Published: April 6, 2010 2:11 p.m.
TAHLEQUAH, Okla. - Wilma Mankiller, former Principal Chief of the Cherokee Nation, passed away Tuesday morning from pancreatic cancer. Mankiller, the first female Principal Chief of the Cherokee Nation, served 12 years in office, the first two as Deputy Principal Chief followed by 10 years as Principal Chief. She retired from public office in 1995 due to health issues.
"Our personal and national hearts are heavy with sorrow and sadness with the passing ... of Wilma Mankiller," said Chad Smith, current Principal Chief. "We feel overwhelmed and lost when we realize she has left us but we should reflect on what legacy she leaves us. We are better people and a stronger tribal nation because her example of Cherokee leadership, statesmanship, humility, grace, determination and decisiveness."
President Obama offered his condolences, stating, "I am deeply saddened to hear of the passing of Wilma Mankiller ... As the Cherokee Nation's first female chief, she transformed the nation-to-nation relationship between the Cherokee Nation and the federal government, and served as an inspiration to women in Indian Country and across America ... [S]he was recognized for her vision and commitment to a brighter future for all Americans. Her legacy will continue to encourage and motivate all who carry on her work. Michelle and I offer our condolences to Wilma's family ... as well as the Cherokee Nation and all those who knew her and were touched by her good works."
Secretary of the Interior Ken Salazar and Assistant Secretary Larry Echo Hawk expressed their condolences to the family and friends of Wilma Mankiller, praising her as a dynamic and visionary leader dedicated to the well being and betterment of her tribal community.
"On behalf of all Interior employees ... I want to extend our heartfelt sympathy and prayers to her family for their comfort and peace," Salazar said. "Throughout her long career of advocating the best for her people, and all of Indian Country, Wilma was a shining example of courage and leadership for all Americans. We will miss her dearly, but we know that her spirit and example live on, encouraging all American Indians to stand up for what they believe in and to step up and accept the challenge of serving in leadership roles."
"The news of Wilma's passing has deeply touched [everyone] throughout Indian Country who knew her as a leader, friend or colleague," Echo Hawk said. "She willingly reached out beyond her tribal community and Indian Country in search of solutions to the social and economic challenges facing the Cherokee people, while sharing her knowledge and insights with anyone who needed them. We honor her with our gratitude for all she has contributed in service to her people and to Indian Country."
"Her personal experiences in childhood of the economic struggles of her family and the impact of the federal government's relocation policy on her life led to insights into what should be done, and could be done, to improve the lives of all Indian people," Echo Hawk added.
Mankiller is credited for many accomplishments during her tenure as Principal Chief, including the founding of the Cherokee Nation Community Development Department, the revival of Sequoyah High School and increasing the population of Cherokee Nation citizens from 55,000 to 156,000. She faced many challenges as well. During her term as Principal Chief, Mankiller established the law that excluded the Freedmen section of Cherokee Indians listed on the Dawes Rolls. The law was later ruled unconstitutional by what is now the Cherokee Supreme Court. She was also involved in many conflicts with the United Keetoowah Band of Cherokee Indians, the other federally-recognized Cherokee tribe.
Upon learning of her illness, Mankiller issued a moving statement in preparation for what was ahead of her. "I want my family and friends to know that I am mentally and spiritually prepared for this journey; a journey that all human beings will take at one time or another. I learned a long time ago that I can't control the challenges the Creator sends my way but I can control the way I think about them and deal with them. On balance, I have been blessed with an extraordinarily rich and wonderful life, filled with incredible experiences. And I am grateful to have a support team composed of loving family and friends ... It's been my privilege to meet and be touched by thousands of people in my life and I regret not being able to deliver this message personally to so many of you."
Principal Chief Smith continued, "When we become disheartened, we will be inspired by remembering how Wilma proceeded undaunted through so many trials and tribulations. Years ago, she and her husband ... showed the world what Cherokee people can do when given the chance, when they organized the self-help water line in the Bell community. She said Cherokees in that community learned that it was their choice, their lives, their community and their future. Her gift to us is the lesson that our lives and future are for us to decide. We can carry on that Cherokee legacy by teaching our children that lesson."
Among her many honors, Mankiller was awarded the Presidential Medal of Freedom by President Clinton in 1998. She was also inducted into the Oklahoma Women's Hall of Fame in 1986 and the National Women's Hall of Fame in 1993. In addition, she has received eighteen honorary doctorates from such esteemed institutions as Yale University, Dartmouth College, and Smith College.
Mankiller co-authored Mankiller: A Chief and Her People and co-edited A Reader's Companion to U.S. Women's History, as well as publishing more than a dozen articles in journals and newspapers. She was a trustee of the Ford Foundation and the Freedom Forum.
Prior to her passing, Mankiller requested that any gifts in her honor be made as donations to One Fire Development Corporation, a non-profit dedicated to advancing Native American communities though economic development, and to valuing the wisdom that exists within each of the diverse tribal communities around the world. Tax deductible donations can be made at www.wilmamankiller.com as well as www.onefiredevelopment.org. The mailing address for One Fire Development Corporation is 1220 Southmore; Houston TX 77004.
A memorial service will be held on Saturday, April 10 at 11 a.m. at the Cherokee Nation Cultural Grounds in Tahlequah.