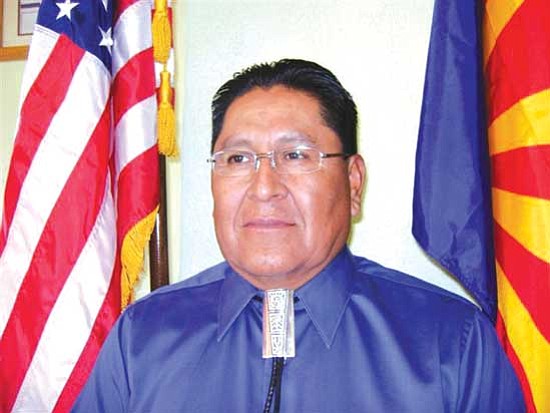 Originally Published: September 22, 2009 11:41 a.m.
Loma taa lang va. My name is Arthur Batala and I take this opportunity to announce my candidacy for the office of Vice Chairman of the Hopi Tribe. I was certified as a candidate for the Office of Vice Chairman by the Hopi Elections Board on Sept. 28. I am Is' wungwa from the village of Mishongnovi. My late father was Percy Batala (Corn Clan) and my mother is Mary Ann Batala (Coyote Clan). My childhood upbringing instilled within me that our kiva duties and ceremonial responsibilities are a priority, which must be carried forth.
My western education started in Woodstock, Vt. where I had transferred and graduated after three years of high school. I attended Northern Arizona University for two semesters and completed my general studies courses. I then enlisted and served in the U.S. Marines for a tour of duty.
Following my military service, I attended Western New Mexico University and graduated with an Associate of Applied Science in Police Science and as a certified peace officer. I was employed for two years as a police officer in Silver City, N.M., then was as a Detention Officer at the New Mexico Correctional Facility in Las Cruces, NM. for four years.
Upon my return to Hopi, I served as a Mishongnovi Council Representative for three years, a Community Services Administrator for Mishongnovi Village and Chief of Staff for Vice Chairman Honyouma. I am also a silversmith specializing in Hopi overlay jewelry.
My vision for the Hopi people is to bring the central Hopi government and the independent and autonomous Hopi villages together towards a more collaborative and cooperative spirit, to open a constructive dialogue between the Executive office of the Vice Chairman, the Hopi Tribal Council and Village governments. As officers of the Hopi Tribal Council we all swear to represent the Hopi people fairly and impartially to the best of our abilities. The authority of the Hopi Tribal Council comes from the Hopi people and it is imperative that their voices are heard.
My primary areas of focus will be to 1. Review and evaluate all Hopi Tribal Council Resolutions that may have led to the disconnect between the central government and villages; 2. Review and evaluate the findings and recommendations of the Final Investigative Report of March 10; 3. To review and evaluate the roles and responsibilities of the Community Service Administrators; 4. Review and evaluate the constitutional process and procedures for village funding allocations; and 5. Develop technical assistance initiatives for villages to attain self-sufficiency.
All of these areas will require creative thinking and the challenge will be to listen to the voices of the Hopi people, incorporate their recommendations into tribal actions and to make the villages an integral part of the decision making process within the Hopi Tribal government.
I look forward to participating in the democratic process of the Hopi Tribal Election as a candidate for the Office of the Vice Chairman of the Hopi Tribe.
My contact information is P.O. Box 802, Hotevilla, AZ 86030 and my email address is AB_4VC@hopitelecom.net.
- - - - -
The Navajo-Hopi Observer welcomes articles announcing candidacy for public office. However, there are some restrictions.
All articles declaring candidacy for public office must be 500 words or less and are subject to editing. Please include what office you are running for, where you reside, your education, public service and experience.
Articles cannot include campaign promises or libelous statements about other candidates. Each candidate is entitled to one article. No articles on any candidate will appear two weeks prior to the election. Submit your article to nhoeditorial@nhonews.com.
For more information, call (928) 226-9696, ext. 5 or send an e-mail to nhoeditorial@nhonews.com.
More like this story