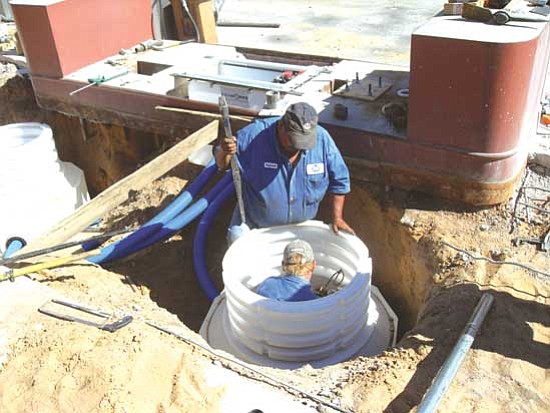 Originally Published: September 8, 2009 12:33 p.m.
HOTEVILLA, Ariz. - After a fire started in a back-storage room in 2003, there was so much smoke and inventory damage, it was almost seven months before the Hotevilla Village Coop Store was able to open its doors for gas and groceries, movie rentals and deli service.
During that time, there was a lot of store remodeling and personnel changes, including two store managers and two separate interim governing boards that provided oversight management and purchasing.
Also new are an outside wall paint job and front door sign, and most recently, another new store manager.
Mike Hunter, the latest store manager, formerly employed at Tuuvi Travel Center in Tuba City, was hired in April by Hotevilla Village. He was able to discuss some new environmental compliancy upgrades as well as some new store pricing changes.
"What the most recent interim village governing board wanted was [overall improvements] for its village co-op and also to update the entire system. We have been looking at modern technology to assist us, which would mean better credit and debit card services like you would have in any off-reservation area convenience store. We are putting in all new [gas] pumps that will have credit-debit card 24 hour purchase capability for regular unleaded, super unleaded and diesel fuel," Hunter said.
"We also will have the newest technology in cash register service which will not only allow quicker ring-ups in purchases, but more accurate inventory listing on what is being purchased by our clients, so we can stay on top of items that need immediate re-ordering. This will also indicate what the community is purchasing the most of in grocery and dry good sales," he added.
This past week petroleum installation specialists were at the Hotevilla store to install EPA certified storage containers and environmentally conscious pumps that will dispense gas.
Hunter says the new gas pumps will be ready for public gas dispensation after Labor Day weekend.
Hunter added, "We are also offering a Customer Loyalty Card, that gives a five percent discount to everyone, except on gas. We will be starting our hot deli items back up that will run the same hours as our store hours everyday. Right now, we have an ATM available inside the store, [but] we are also hoping to get a fully functioning, 24 hour ATM located outside the store."
"We have also brought in new items, and have tried to keep our gas prices extremely competitive with off-reservation prices."
"I can proudly say that our Hotevilla Coop store prices for gas are cheaper than any of the other stores that are located on the Hopi rez," Hunter concluded.
(CLARIFICATION: In the Sept. 9 print edition of the Observer, the first paragraph of this article should have read, "After a fire started in a back-storage room in 2003, there was so much smoke and inventory damage, it was almost seven months before the Hotevilla Village Coop Store was able to open its doors for gas and groceries, movie rentals and deli service." We apologize for any confusion that resulted.)