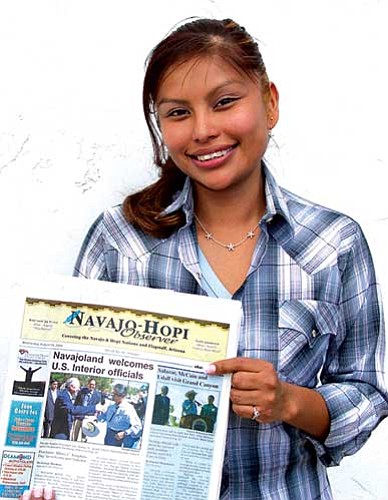 Originally Published: September 1, 2009 11:40 a.m.
PHOENIX, Ariz. - Most people probably don't believe in divine intervention, but in the case of Kaylynn May Bahe, it may have been what saved her.
In 2003, Bahe was walking from a friend's house in south Phoenix one night around midnight. For whatever reason, she paused to tie her shoelaces - which she usually just tucked into her shoes - adjusted her belt and tied her hair back. She was walking to her aunt's house nearby when an unknown male assailant attempted to rape her. Fortunately, she was able to fend off her attacker and seek help, crediting the minor adjustments she made to her clothing for saving her from a sexual assault.
Even before this attack, Bahe (Navajo/Hopi) had already been giving serious thought about raising awareness against child sexual assault (CSA). Having been sexually assaulted in her early teens by an uncle, she didn't know where to turn for help. Her own mother - a past victim of sexual abuse herself - wouldn't listen to her and evaded the issue. Reflecting on this, Bahe stated, "To me, it seemed like she didn't care."
Even Bahe's grandmother would say, "Don't talk about that. It's not nice to talk about that."
According to national statistics, it is estimated that at least two in 10 girls (and one in 10 boys) are sexually abused by the time they are 13-years-old. By the time they reach 18, one in four girls (and one in six boys) are sexually abused. Even more alarming is the fact that 30-40 percent of CSA victims are assaulted by family members.
Bahe partly attributes instances of CSA to influence from outside cultures, as well as cultural stigmas within both Navajo and Hopi culture. She stated, "[The perpetrators] are not right in their mind because they don't know who they are or who they want to be."
Regarding the victims, Bahe stated, "They're [too] afraid to tell anyone."
She recalls, "I tried to tell people, but they are so [closed minded] and afraid about, 'Oh, this is against the law.' People get so offended by it and don't talk about it."
Now at 25, Bahe has taken it upon herself to become an advocate and supporter for those who feel helpless and feel like they have nowhere to turn.
"I hated feeling miserable all the time," she said. "I wish I could have told someone or that someone would have listened to me."
Bahe explained that not having anyone to turn to made her feel like she was climbing a never-ending hill. For that reason, she vowed to be there for other sexual assault victims, stating defiantly, "I'm gonna take a bulldozer and flatten the whole [hill] out."
It wasn't until a female cousin came forward and told Bahe that she had been sexually assaulted by the same uncle who assaulted her that she found the strength to encourage her cousin to seek help.
"You have to stop him," Bahe told her cousin.
Bahe stated that this experience strengthened and enlightened her.
As a result, Bahe turned to the popular forum of MySpace to further promote awareness of CSA and to provide a means for CSA victims to seek help. On MySpace, Bahe makes herself available to CSA victims under the surname "Miss Turquoise." She attributes her use of this name to the fact that for over 3,000 years, turquoise has been used by many cultures as talismans of "good things," such as guidance, protection, friendship and security.
Since the launch of her MySpace page, she has been contacted anonymously by 25 sexual assault victims, including one who had been sexually assaulted at a family gathering by her own brother-in-law. The victim, who was older than Bahe, sought advice on what to do. Bahe recalled the moment and alluded to the fear and shame that many sexual assault victims feel.
"We all feel like a little kid," she said. "[But] it's okay to be scared because it's natural and we're only human."
Bahe feels that her work in advocating for CSA victims is only just beginning. One of her ultimate goals is to develop a listing of sexual offenders on Indian reservations.
"[That way,] we can be aware of who it is in our [neighborhoods] that we have so that we can be safe," Bahe said.
Another goal is to make more statistics specific to Native American populations available so that people would be more aware of how prevalent CSA is in Native communities. Yet another goal is to create flyers for distribution in area schools so that students know that they always have somewhere to turn.
Bahe acknowledged that the usual attitude of most people is to "sweep it under the rug" and ignore it, but that for her, coming out and telling people about what happened to her was a means of personal salvation. Although her mother wasn't helpful or supportive, Bahe said, "I just had to tell her ... it had to be said in order for me to get over it."
Bahe strongly encouraged CSA victims not to be afraid.
"It doesn't matter what culture you come from. [Child sexual assault] shouldn't be a taboo. It's your safety. If you love your family and you love your children, you should let people know who does this type of stuff. You've got to love yourself and learn how to forgive. Otherwise, you won't be able to move on and be as strong as you are," Bahe said.
"Once you tell somebody ... they are afraid of you because they know that you're not afraid to tell. Once someone knows that you won't tolerate it, they won't come near you anymore," she concluded.
Bahe would like to acknowledge supporters of this cause, including Max's Body Shop, located at 2742 E. Route 66 in Flagstaff.
If you or someone you know is a victim of CSA, contact "Miss Turquoise" at www.myspace.com/kaylynn_bahe for more resources and additional information on CSA, or call 1-888-SOS-CHILD.