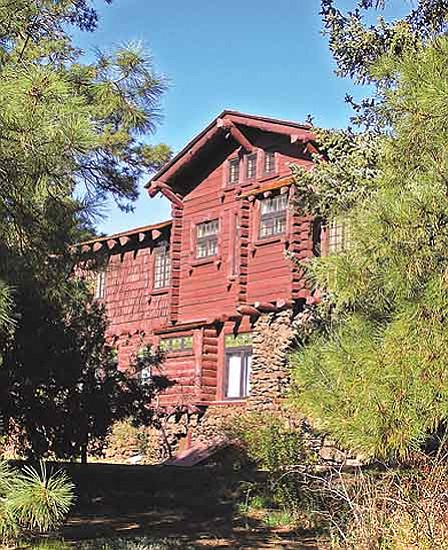 Originally Published: October 27, 2009 5:34 p.m.
FLAGSTAFF, Ariz. - On Saturday, Nov. 7 at 7 p.m., the Evening Slide Presentation Series will feature "The Great Southwest of the Santa Fe Railway" presented by Alan Petersen, Coconino Community College and the Museum of Northern Arizona.
The Santa Fe Railway introduced a great many visitors from around the world to the people and geography of the Southwest. They were also great patrons of the arts and used the art they commissioned as part of their marketing strategy and materials. The Santa Fe Railway marketing department hired well-known artists and their prints and paintings have, in many ways, come to define the stereotypical image of the Southwest.
Reservations are recommended for this presentation due to limited availability.
On Monday, Nov. 9 at 12:15 p.m., the Brown Bag Lunch Lecture on the front veranda of the historic 1904 Riordan Mansion will feature, "Mark Twain in the American West" presented by Kathy Farretta, Assistant Park Manager. In celebration of Samuel Clemens' birthday, we will explore the forces that caused him to make the trip to the newly established Territory of Nevada with his brother Orion in 1861. From printer's apprentice to steamboat pilot, prospector to newspaper correspondent, follow Sam Clemens' journey to the American West.
On Saturday, Nov. 14 at 7 p.m., the Evening Slide Presentation Series will feature "Lava Dams on the Colorado and Little Colorado Rivers" presented by Wendell Duffield, U.S. Geological Survey and Northern Arizona University.
Volcanoes are notorious for building dams across rivers that get in their way. Northern Arizona has been a hotbed of this kind of no-bid construction. Eruptions in the Toroweap area created about a dozen dams in the Grand Canyon during the past 700,000 years.
The most recent attempt for yet another was only 1,000 years ago, but the volcano ran out of lava before the project could be carried out.
The Little Colorado River has seen at least four lava dams created during the past two million years. The youngest of these is at Grand Falls and is only 20,000 years old. From a geological perspective, future eruptions are likely to occur in northern Arizona. It's interesting and a bit frightening to contemplate the consequences should such eruption create a new lava dam.
Reservations are recommended for this presentation due to limited availability.
Guided tours of Riordan Mansion are given daily at the top of each hour. Tours begin at 9 a.m. Tour size is limited and reservations are highly recommended. Your guide will lead you through a pristine historic home filled with original artifacts, handcrafted furniture, and personal mementos of the Riordan families.
The impressive home contains an exceptional collection of Craftsman furnishings with appointments by Edison, Stickley, Ellis, and Steinway. The first floor of the West Wing is included as part of the tour and provides displays about the family, the Arts and Crafts movement, and other local interests.
Built in 1904 for two Riordan families, Riordan Mansion is an impressive reminder of gracious living in a small, territorial logging town. The historic building is an Arizona treasure, a remarkable example of Arts and Crafts style architecture featuring a rustic exterior of log-slab siding, volcanic stone arches, and hand-split wooden shingles. The expansive home has 40 rooms, more than 13,000 square-feet of living area, and servant's quarters.
Charles Whittlesey, creator of Grand Canyon's El Tovar Hotel, designed the Riordan residence.
For more information or to make reservations, call (928) 779-4395.
Riordan Mansion State Historic Park is located next to Northern Arizona University in Flagstaff on Riordan Road.
The park entrance fee is $6 per person for those aged 14 and up and $2.50 for children aged 7 to 13. There is no charge for children younger than 6. Through March 31, 2010, Riordan Mansion State Historic Park will be open five days per week only. The Mansion will be open Thursday through Monday and will be closed on Tuesdays and Wednesdays.
More like this story