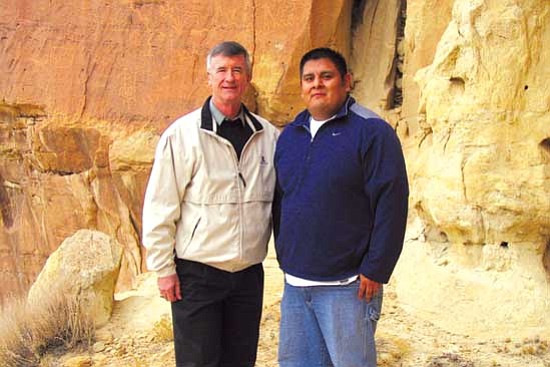 Originally Published: October 6, 2009 2:55 p.m.
As the season of homecoming football games is upon us, alumni from high schools and colleges gather to reminisce, support their team and show their pride. Often times the question is asked, "How I can give back or contribute in a way to honor my alma mater and show my school pride?"
Alumni Challenge supporter Patty Talahongva added, "I truly feel every cent helps. Besides contributing as a board member of the HEEF, I also participate in the Alumni Challenge because I'm proud of my college and all of the Hopi people who have attended ASU, graduated from ASU and now work at ASU. Each of us can make some sort of contribution to help the next generation of Hopi college students! "
HEEF Marketing/Special Events Manager Sam Tenakhongva stated, "As an alum of Hopi High School and the University of Arizona, I am grateful for the financial support I received while pursuing my degree. This has afforded me opportunities I may have not had, and I feel the responsibility to help the next student."
He added that the Challenge is a great avenue for high school and college alumni to become engaged and contribute back to their community and to show their school pride through a contribution or pledge on behalf of their high school or college alma mater.
To make a contribution, Alumni Challenge forms are available online at
www.hopieducationfund.org or by contacting HEEF staff. All contributions and pledges can be paid to the HEEF via cash, check, money order, and credit/debit card (VISA/MasterCard). As an added incentive, when alumni make their contribution they will receive a "special" thank you item.
The HEEF is a non-profit entity of the Hopi Tribe. All contributions are tax-deductible and all participants will be recognized on HEEF's Web site. For more information on the alumni challenge or to make a contribution contact the HEEF at (928) 734-2275, via e-mail: heef@hopieducationfund.org.
Weekly updates will be posted on the HEEF Web site at www.hopieducationfund.org.
More like this story