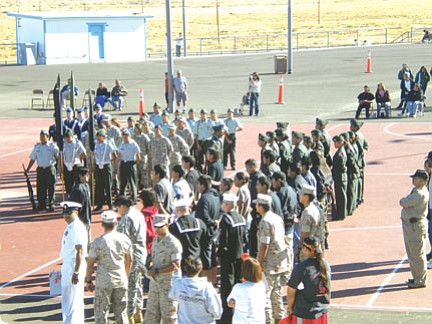 Originally Published: November 10, 2009 2:09 p.m.
POLACCA, Ariz. - Hopi High School's Junior Reserve Officer Training Corps Sgt. Kevin Nance felt that every team and every cadet was a winner at the Hopi2Hawaii Lori Piestewa Invite Oct. 24.
Tuba City High School won the overall invite with Hopi High placing second, but Sgt. Nance felt all eight participating schools were winners. He said the invite had several goals:
First, to honor fallen soldier Lori Piestewa who was the first Native American female soldier killed in the Iraqi war.
Second, to teach cadets what JROTC is all about. There were drill and color guard competitions to go along with the 5k run.
Third, to get the community involved, especially the parents.
Sgt. Nance said the enthusiasm from the parents was awesome.
"We couldn't do it without the parents and this was the best parent group we had," he said. "The cadets were enthusiastic because everybody wanted to win."
Sgt. Nance said the maintenance staff at Hopi High School was also crucial in making the event successful.
Fourth, to raise funds for the Hopi High School cadets trip to Hawaii in January where the students march in the Martin Luther King Day parade.
"It was a fantastic day. The sun was shining and the winds were right. The cadets were highly motivated," Sgt. Nance said. "This is the biggest and best drill meet developed for teams in northern Arizona."
Hopi High, along with other teams in this area, recently was moved from the 14th brigade to the fifth brigade. The former brigade included schools from California and Nevada. The new brigade includes schools from Utah, Texas, New Mexico and Colorado.
Sgt. Nance said he is happy with the change because there is now more of a variety of schools involved.
The other schools involved in the invite were Sinagua, Gallup, Prescott, Ft. Wingate, Chinle and Pinon.
Here are the results: First Place, Tuba City High School, 373; second place, Hopi High, 335; third, Sinagua, 138; fourth, Chinle, 62; fifth, Gallup, 52; sixth, Prescott, 37; seventh, Pinon, 8; and Wingate High School.
For addiitonal team standings and results, visit our Web site at www.nhonews.com and click on the "Education" link.
More like this story