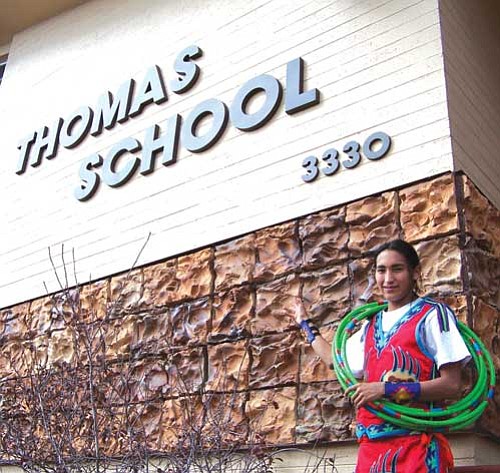 Originally Published: November 3, 2009 11:33 a.m.
FLAGSTAFF, Ariz. - After lots of applause and admiration, Nakota LaRance, 20, bade a fond farewell to staff and students of the Thomas School.
LaRance, a former student of Thomas School, was scheduled to depart from Flagstaff on Sunday to begin a two-year tour with world famous dance and acrobatic troupe Cirque du Soleil.
The troupe will include LaRance's award-winning hoop dances, which he started mastering at around age five.
Prior to his performance, Nakota stood by as his father, Steve, explained how Nakota learned the hoop dance at a young age, the overall significance of the hoop dance and some of the shapes and designs that students would see, such as a butterfly, and eagle, a flower and even Mother Earth.
Both imparted to Thomas School students and staff the importance of recycling and taking care of Mother Earth.
He also explained to the audience that the hoops signified the "circle of life," further illustrating the role and the significance of Mother Earth.
The elder LaRance then talked about some of Nakota's theatrical endeavors, which included roles in prominent films, including the acclaimed miniseries, "Into the West."
Finally, he encouraged the students to applaud during Nakota's performance to show their appreciation for his performance, which the students were all too eager nd happy to do.
Once the elder LaRance started to sing, Nakota began to dance, executing each successive shape with ease. Following each shape, the students applauded and gave their approval.
Once the performance was over, the staff of Thomas School made a special presentation to Nakota with a gift basket, a common Native American practice at dances and powwows to show appreciation for a performance.
In the gift basket were various treats and goodies, including food items and pencils and paper so that Nakota could keep in touch with his former school.
Another special presentation was made by school staff to Nakota in the form of a Native-inspired American flag Pendleton blanket.
Following his performance, Nakota thanked the school for inviting him to perform and further encouraged the students to stay away from drugs and alcohol, stay in school, and work toward their goals in life.
Students had a final opportunity to chat with Nakota before he left the school. The Thomas School students were clearly in awe of Nakota's talent and performance as they paid homage to one of their own.
Following a two-month training period, LaRance will travel with Cirque du Soleil to various locations worldwide, including London, England and Barcelona, Spain.