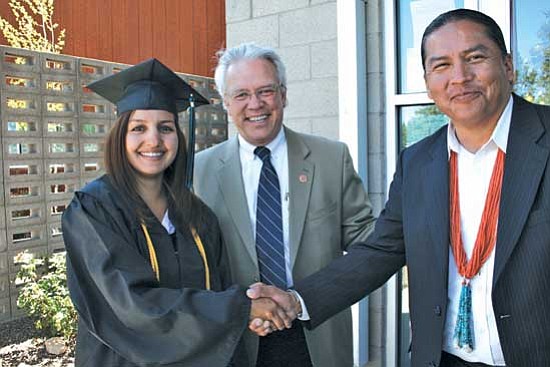 Originally Published: May 12, 2009 7:27 p.m.
FLAGSTAFF, Ariz. - Coconino Community College graduated more than 200 students last Friday, May 8, leaving them with a quote from President Bill Clinton: "We are living in a world where what we earn is a function of what we learn."
Among the graduates was 27-year-old Cristina Linn, the niece of District 2 Rep. Tom Chabin.
"This day means a lot to me. I'm a single mom and it's taken me four years to earn this degree while raising my son and working full-time as a special education instructor's aide at Sechrist School," she said.
Linn received an associate's degree in psychology. She says she plans to continue her education at Northern Arizona University as she works toward her goal of becoming a child psychologist.
Rep. Chabin attended the Friday afternoon ceremony at the CCC Lone Tree Campus to commemorate this important milestone for Linn.
"I am extremely proud of Christina and her accomplishment and extremely proud to be part of a community that has given Christina and so many others the opportunity for higher education," he said. "I know the value of that. I'm a product of a community college in Kansas and I look forward to sharing in her success in the future that might reflect my accomplishment as a graduate of NAU."
"It is great to have him here. He has been such a support system for me," said Linn.
The Class of 2009 was the youngest overall CCC class in 10 years with a median age of 29.