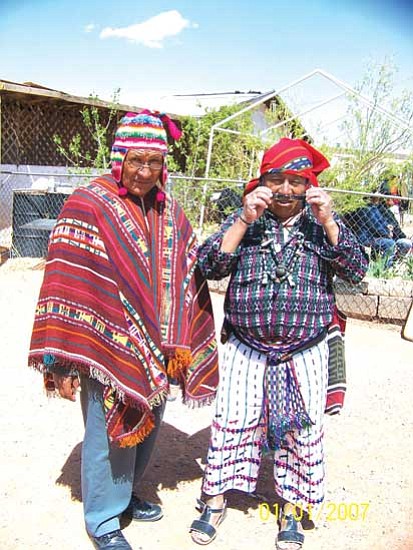 Originally Published: May 5, 2009 4:49 p.m.
TUBA CITY, Ariz. - Forgotten People Community Development Corporation (CDC) Dine' Be' Lina' na' hil naa (Dine' Rebuilding Communities) hosted Return of the Ancestors on April 24-25.
This gathering is fulfilling a great Mayan prophecy, "When the Eagle once again flies with the Condor, a lasting peace will reign in the Americas and will spread throughout the world to unite humanity." Over 500 years ago, the Mayan ancestors proclaimed a prophecy for the upcoming years creating the Mayan calendar. With only three years left on the Mayan calendar, many people fear the end of the world in 2012, but the Mayans feel it is the start of a new era of harmony and peace.
Close to 1,000 people participated in a sacred pilgrimage organized by the Institute of Cultural Awareness (ICA) that began April 18, called by Tribal Elder of Guatemala, Don Alejandro Cerilio Axla Perez and other Indigenous elders, wisdom keepers and pilgrims that traveled from the highest peaks of the Andes Mountains, Peru, Mexico, Guatemala, Canada, England, Poland, Bosnia, Tibet, Japan, India, Spain, Amsterdam, Sweden, Denmark, Switzerland and Africa.
On Thursday, April 23, Stella Peshlakai, a Dine' elder living in Wupatki joined Black Falls elders to welcome elders from around the world at Wupatki National Park for a sunset ceremony.
On Friday, April 24, Norris Nez, medicine man (Hathalie) led a caravan from the Grand Canyon to Toh Naneesdizi where they were met by Gibson Jones, George Kee and other Native Vietnam veterans for an escort to the land of Forgotten People. The veterans conducted a flag raising and sunrise ceremony.
Nez said "It is honorable for veterans to lead the way. Our veterans answered the call of duty and sacrificed themselves for their country to return home to find they lost their ancestral homeland."
Mr. Higa, God's People (Kaminchu), Okinawa, Japan spoke about how his family perished in the Hiroshima bombing. He said, "I was called to find the people living on land where the uranium was mined. What I found was a healing with Black Falls residents devastated by uranium and arsenic contamination of their water resources."
Dolly Kee said "A man from Pine Ridge's car broke down in New Mexico. He only knew one word in Navajo and said Ya'at'eeh. This one word was enough for him to get a ride all the way to the gathering."
Despite the obstacles, the event banned on Hopi land, and high winds that lasted the duration of the gathering, people shared their culture, traditional music, dance and offered blessings and prayers for mankind. As elders sat in council in a sacred hogan, a sacred fire lit the night sky.
Billy Reese Kee said, "Everyone was united in spirituality, hearing a call to come from all over the world to help strengthen each other and unite together in spirituality."
Jean Selaw Williams said, "This gathering makes me recall the teaching about how Changing Woman brought the children to her home in the west called 'White Shell Floating House' and taught them the Blessing Way ceremony. Changing Woman instructed the children to take the Blessing Way ceremony back to the Four Sacred Mountains for the Dine' people. She prepared a ceremonial cornmeal for the children to eat before their journey back home to keep them strong and safe. This was why Forgotten People served blue corn mush (Tanaashgiizh) along with other Dine' Native foods for visitors to show our love, respect, good thoughts and prayers."
Debbie Yazzie said, "All the medicine men and women encouraged us to continue supporting one another. They told us, some day in the future, we will accomplish our goals."
After decades, legislation to lift the [Bennett] Freeze passed the Senate, the House of Representatives and is awaiting President Obama's signature.
Forgotten People's members are composed of individuals who continue to live in the former Joint Use Area (JUA), Hopi Partitioned Lands (HPL) and Navajo Partitioned Lands (NPL), individuals living in the former Bennett Freeze, and individuals who were relocated from the Partitioned Lands when the United States relocated over 15,000 people.
What gave people the strength to persevere is the depth of their sacred connection with their land. The Forgotten People believe all the blessings will help them rebuild communities devastated by the Freeze and relocation.
To find out more about Forgotten People projects including a recent Environmental Protection Agency grant award to provide safe drinking water for Black Falls residents and permits with the Forest Service to rebuild the former Bennett Freeze, HPL and NPL, please attend a meeting at Debbie Yazzie's residence every Monday night at 5:00 PM (DST) in Toh Naneesdizi, 2 and a half miles south of the old airport. Phone (928) 401-1777 or e-mail Forgottenpeoplecdc@gmail.com for more information.