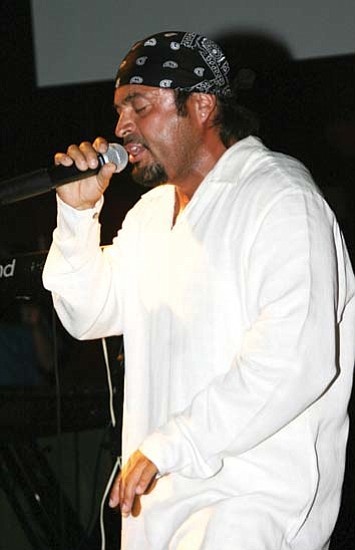 Originally Published: March 24, 2009 3:32 p.m.
FLAGSTAFF, Ariz. - Hopi has long been recognized as a peaceful people - one with its culture and language largely intact. It is therefore alarming to recognize growing incidents of violence in Hopi, but increased incidents in child abuse, domestic violence and murder have highlighted a growing atmosphere that concerns tribal leaders and residents alike.
Native musicians Gabriel Yaiva and Casper Loma-Dawa have responded to acts of violence by launching what they have called the "Revolt Against Violence Tour."
"Violence on our reservations is at an all time high and something must be done to stop this epidemic," Yaiva said. "Our people are having their lives taken at the hands of our own people. Domestic violence, gang violence and violence due to substance abuse are now, unfortunately, a part of our everyday lives on the reservations."
Yaiva went on to describe a number of reasons why reservation youth have turned to violence in an interview on March 11.
"One reason is because of the harder drugs being used on the rez - these are the deadly instruments behind ... some people's triggers," Yaiva said. " The second reason is the sense of resentment and hopelessness - youth no longer value their lives - or anyone else's lives. Finally, there is the loss of tradition.
"No one thinks of Hopi as a place of violence - where one has come to expect violence on other reservations like Gila River, Salt River, and Navajo," Yaiva continued. "When it comes to a community like this, you have to think. The people who don't acknowledge the problem are as guilty as those who are committing the acts of violence. We can't go around fearing our uncles and cousins. We definitely must find a way of healing."
Yaiva said that both he and Casper had lost friends and family - including Casper's little brother about a week earlier - and this has inspired them to find the courage to speak out through peace and love. As performing artists, Yaiva believes he and Casper are uniquely situated to address the situation.
"I think any kind of movement coming from artists is the best way to make headway in a tense situation," Yaiva explained. "We have a natural rebellion. Even though we are getting older, our music keeps us youthful. It is a way to be rebellious; a way to relate to younger people. Youth tend to draw a line in the sand as to what as acceptable. We can relate to youth, especially in these situations."
Yaiva explained that he does understand the feeling of hopelessness and anger expressed by many youth.
"When I moved to Flagstaff, I met a lot of 'hippie' type people who talked about respect. But as I got to know them, I saw them as envious and judgmental. You can't tell me what respect for life is unless you've seen ... disrespect for life, until you've lived on the rez," Yaiva said. "When we talk to youth, we don't come with judgment and disrespect - we are all facing a changing situation."
The Pueblo Revolt of the late 1600s is an inspiration for the Revolt Against Violence Tour.
"Many Pueblo peoples united in an effort to drive colonization from their homelands," Yaiva said. "This event was the greatest display of unity among these tribes who decided to go up against their oppressor. We are taking the same concept symbolically. No one can do this alone. If we unite ... in a positive way, we will make headway."
The loss of language is a tough situation for Hopi youth.
"Out at Hopi, much of the youth cannot speak fluently. Those who can speak the language aren't always well traveled. They are more versed in culture, but don't always have a better understanding of world politics," Yaiva explained. "It is plain and simply wrong to speak a traditional language in a non-traditional government, yet one must speak fluent Hopi to speak on the council."
This practice, Yaiva said, excludes youth from involvement in Hopi politics.
"This is purposefully pushing young people out," Yaiva said. "[Eventually,] we won't have enough people speaking Hopi to continue the government."
"We had a situation where an individual's [bid for tribal office] was challenged on Hopi fluency," Yaiva's wife, Somana, explained. "The person who won saw no value in the youth. His challenger was in his 30s. We [chose] fluency over [the] younger generation."
"Youth have gotten used to violence," Yaiva said. "We have trained ourselves to be desensitized. Casper and I feel we can work together as musicians. Our basic message is about understanding."
Casper is a world-renowned reggae artist, and has performed with the likes of Santana, Ziggy and Damien Marley and the Neville Brothers. He is the recipient of numerous music awards, but places more value on his message of peace, understanding and one world.
Yaiva is a nationally-known hip hop artist and directs the Peace and Balance project, a violence and substance abuse awareness program. He is also involved in Native Movement, which heads many projects benefiting Native American youth and people.
The first show in the tour will take place in Taos, N.M. on July 11; the final performance will be Aug. 11 in Kykotsmovi. Additional tour dates are being finalized. The artists will be visiting communities, schools, youth centers, elderly centers and more.
Other artists, including War Stars from Taos, N.M. and DJ Kiss from Zuni Pueblo will be stopping in to help out at some of the performances.
Individuals interested in supporting this effort - volunteers, grant writers, monetary sponsorships, organization assistance, etc.-are encouraged to contact Yaiva at (928) 699-9601, or e-mail yaiva@4went.com.
More like this story