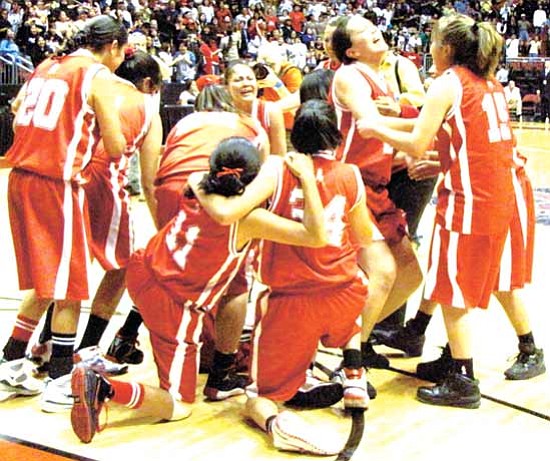 Originally Published: March 10, 2009 4:44 p.m.
GLENDALE, Ariz. - The Monument Valley Lady Mustangs edged out the Winslow Lady Bulldogs 47-46 on a put back shot at the buzzer by Bradley Nash at the buzzer during the Arizona State 3A Conference Tournament final game in Glendale on Saturday. The win ended Monument Valley's season with a 22-9 record and ended Winslow's season with a 29-2 record.
The contest between the two evenly matched teams was led by Winslow at the end of each of the first three quarters but was never substantial. The Lady Bulldogs were up 9-8 after the first quarter and 20-18 at the intermission. The 36-31 lead after three quarters was one of the largest of the game for either team.
Monument Valley came back quickly to tie the score at 38-38 with 5:47 left in the contest and neither team had more than a three point advantage after that. The teams swapped leads for the remainder of the contest.
Winslow took its last lead on a basket by Raquel Singer with just seconds left on the clock for a 46-45 advantage. Monument Valley had just enough time to bring the ball down court and take a shot, which missed but was immediately rebounded and put back in by Nash for the game winner.
The Lady Bulldogs were magnificent from the foul line hitting 22 of 30 attempts to just nine of 17 for Monument Valley.  The Lady Mustangs hit just one more two point goal than Winslow but connected on six three pointers to just four for the Lady Bulldogs.
Kourtney Shirley of Winslow led all scorers with 20 points that included a perfect 10 for 10 at the charity stripe,  two three pointers and two regular baskets. Raquel Singer was also in double figures for the Lady Bulldogs with 10 points.
Crystal Todachine led Monument Valley with 13 points. Bradley Nash with 11 points and Angelique Black netted 10 points for the Lady Mustangs.