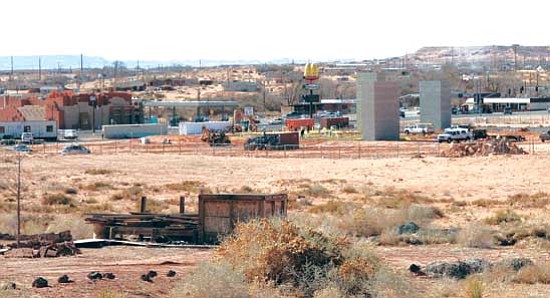 Originally Published: March 10, 2009 5:16 p.m.
MOENCOPI, Ariz. - With the on-going success of the Tuuvi Travel Center, just one of the major public projects for Moencopi Developers Corporation (MDC), CEO Daniel Honahni is feeling pretty confident about their board's newest venture.
The new Hopi hotel and conference facility, which will be located on the corner of Highway 160 and the entrance of Highway 264, will boast 100 rooms, 14 of which will be deluxe suites.
The new hotel will serve as a side-by-side compliment to many Hopi owned business, including the new Tuuvi Travel Center - another MDC project - which opened last year.
Hotel accommodations will include king, queen, double bed options and four handicapped equipped rooms, a swimming pool, a workout room, and a large conference room facility, which can seat up to 200 conference attendees.
The conference area can also be separated into three smaller group meeting rooms and will have support features, including a breakfast facility with a warm up kitchen attached.
The entire hotel will be a pueblo style, three-story design. A new hotel reservation Web site is currently being developed and will be geared specifically for tourism interest and future group excursions to the surrounding national park areas.
Honahni stated, "Our construction contract calls for the project to be physically completed by August of 2009, but we also will have the internal hotel detail work including the inside furnishings that will need to be finalized, so I am projecting a genuine start date [of] winter of 2009."
"We have been lucky to have everything so far on schedule, including very productive bi-weekly construction reports from our design and work team," he added.
Honahni also explained more about the new Web site being developed specifically for their hotel and conference center.
"Our new Web site, which will be up and running by mid-May, will be both a national and international access Web site. It will give details about tour packages, group tour hotel pricing and surrounding tourist sites of interest. Travelers will be able to access us through the Internet and book their reservations through discount sites like expedia.com, so that will also allow us to compete with other area hotel facilities."
When asked if the project ran into any construction difficulties during excavation or infrastructure digging, Honahni stated that the only issue was an older water line that had not been buried deeply enough.
"The Hopi village had installed a water line, many, many years ago and it was not buried deeply enough, so we did have to re-trench that particular area of water piping to accommodate the new water lines, but other than that, things have been going really well. We feel pretty lucky there haven't been many construction issues that prevented any major daily progress."
"One of the most exciting aspects of this new conference facility is that we are already working on a directory of tribal entities that will be notified by e-mail of how they can book our facility for their future conferences and what we can offer them in the way of unique conference work related experiences," Honahni added.
For information about the hotel project, call Vera Pooyouma at (928) 283-5999.