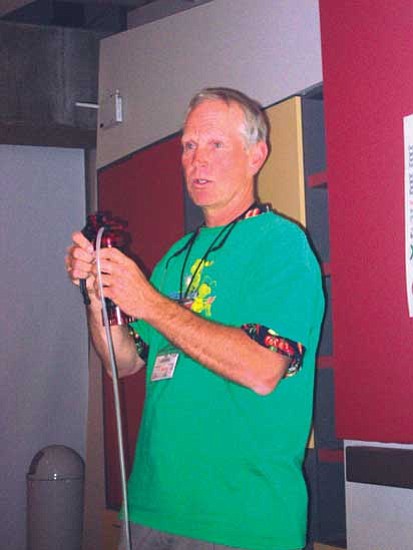 Originally Published: June 16, 2009 8:37 a.m.
PRESCOTT VALLEY, Ariz. - For those getting out of school or jobs for the summer the hiking season is underway. Three most important points to know about hiking are timing, water and preparation.
Ted Johnson, assistant director of Prescott Valley Library, has a hiking CD called "Hoof'N It: Places, Plants, People, Praise" which offers 99 southwest hikes with most in Arizona.
Johnson's CD includes profiles of each hike along with maps, descriptions and images from deserts, canyons and mountains; tools to identify native plants, an edible plants chart and selected GPS points. It also includes wilderness instruction, desert survival and orienteering as well as the Bible's thoughts on environmental issues.
Johnson spoke about three hikes during a recent workshop at the Prescott Valley Library and about the issue of timing when considering hikes - two of these hikes he would stay away from during the summer.
"Most people don't like to hike during 90 to 110 degree weather," he said.
One of the hikes was the Tanner Trail off the South Rim of the Grand Canyon. He noted that this has a 5,000-foot elevation change meaning that if it's nice at the top then it's hot at the bottom. When it's nice at the bottom it's usually snowing at the top, so the best times to take this trail is either in the spring or the fall when it won't be too cold at the top or too hot at the bottom.
Johnson once hiked the Tanner Trail during the summer, but he was at the trailhead at 1 a.m. so he was out by noon. Most sane hikers may not want to try this because of sleep issues. He also hiked at 1 a.m. on a moonlit night, so don't try this on a dark night if you're crazy enough to try it at 1 a.m. at all.
His implied point may be those planning a hike should consider not only what time of year to go, but when to start their hike and when they should be done.
Johnson also gave a warning for those wanting to go into the Colorado River at the bottom of the Grand Canyon because the water coming from Glen Canyon Dam is downright cold and can cause shock for those dealing with the Grand Canyon heat. He said most Americans know not to hike the South Rim of the Grand Canyon in the summer, but many foreigners do not and that is when many visitors show up there.
A second hike to consider - but not in the summer - is Aravaipa Canyon. This hike is 120 miles southeast of Phoenix. This pristine canyon ranges in elevation from 2,600 to 2,900 feet. The Bureau of Land Management limits visitation to 30 visitors on the west end and 20 visitors on the east end each day. Aravaipa is 15 miles long. It can be too hot during the summer. Johnson hiked it in February.
Johnson said hikers should always take more water than they need in case of injury or delays during hikes. However, when hiking a trail with streams hikers can take filters instead of a lot of water so they can purify the water in the stream and drink it. The filters must be washed after every trip. He said when he uses a filter that when he gets home he washes it in a dishwasher and then cleans it again with diluted chlorine formula.
The third hike is the West Fork of Oak Creek in the Sedona area. This hike can be done in May or June, but check the weather before a July or August trip because this has slot canyons and they can become flooded quickly during monsoon season. For more information on any of these hikes, look for Johnson's CD.
Brennan Basler, interpretive ranger at Usery Mountain Park in Mesa, offers a comprehensive list for what to take on a hike: comfortable hiking shoes/boots, suitable clothes, hat, sunscreen, first aid kit, medications, sunglasses, map, compass, whistle, tp, trash bag, cell phone, notebook and pen, matches, hat, sanitizer, snacks/food, camera, flashlight, walking pole and guidebooks.
Basler also said hikers should let someone know where they're going.
Know of a good hike, let Bindell know at stanfred23@yahoo.com
More like this story