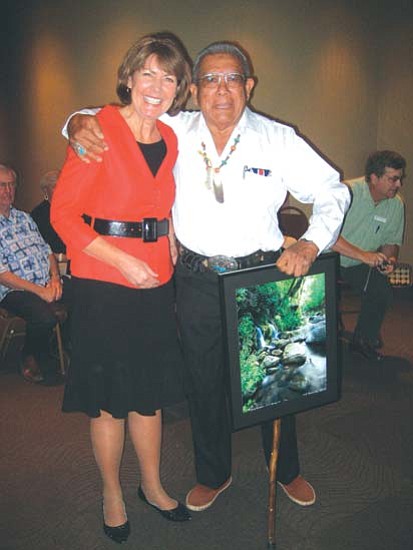 Originally Published: June 9, 2009 2:47 p.m.
CAMP VERDE, Ariz. - To Robert Bear there is more to Fossil Creek than just its beauty. Bear was born and raised at Fossil Creek and many recognize him as knowing Fossil Creek better than any living being.
Bear said the water from Fossil Creek has healing powers. He has seen it heal many people who believed in its powers. They were mostly members of his Yavapai Tribe, but he has also seen Asians use Fossil Creek for its healing powers.
Bear was among about 75 people who gathered May 30 at the Lodge at Cliff Castle Casino to celebrate Congress' approval of Fossil Creek as a Wild and Scenic River.
This designation assures Fossil Creek receives the funding it needs for protection and management. Those attending also celebrated the passage of the Omnibus Public Land Management Act, which will protect many areas throughout America.
Dignitaries attending the event included U.S. Rep. Ann Kirkpatrick, Arizona Wilderness Coalition (AWC) Executive Director Kevin Gaither-Banchoff, AWC Central Arizona Director Sam Frank, Arizona Highways photographers Nick Berezenko and Elias Butler and Robert Bear.
The event was co-sponsored by Arizona Wilderness Coalition and Yavapai-Apache, but tribal officials were out of town on tribal business or vacation.
Bear, a Korean War veteran, said Fossil Creek "is important to our people. Holy dancers come out of there."
Bear spoke of the healing qualities of the Fossil Creek water, but emphasized that it won't work if people don't believe.
Rep. Kirkpatrick calls Fossil Creek one of the most beautiful places and she is concerned about pristine places that once lost, cannot be brought back.
Although Kirkpatrick is Anglo, she was raised on the White Mountain Apache Reservation where she was taught not to leave any footprints or traces when she went to important environmental places.
Rep. Kirkpatrick is also aware of the Yavapai Apache history where they were forced to march to San Carlos before returning to their ancestral lands many years later.
"Now you know that Fossil Creek is protected forever for you," she said. "I was so happy when it passed Congress."
Kirkpatrick said the approval of Fossil Creek as a Wild and Scenic River, along with the approval of the omnibus lands bill, was the second time she was at the White House for the signing by the president. She praised the supporters of Fossil Creek for persevering over about an eight-year period in order to see it protected.
Despite the approval of these land protections, Kirkpatrick said environmentalists must remain vigilant as she continues to seek green technology and jobs throughout the congressional district. She said her door is always open with offices in Prescott, Casa Grande and Globe along with a mobile office that visits every place in the congressional district.
Gaither-Banchoff praised Kirkpatrick for embracing Fossil Creek and other environmental issues since the day she took office.
Gaither-Banchoff presented Kirkpatrick and Bear with photographs of Fossil Creek taken by Berezenko.
Chris Coder, an archeologist with the Yavapai Apache Tribe, said Fossil Creek is an important place to the tribe going back to their ancestors. He pointed to the saying by an elder that "as long as the river flows that life will be good." He said this is particularly so with Fossil Creek and made them happy when Arizona Public Service decommissioned its plant at Fossil Creek so the water could flow freely again.
"It was an emotional time for the tribe when the water was diverted," he said.
Coder joked about the day's speech falling on him, "a White guy from Flagstaff," because the tribe's officials were out of town.
The congressional approval made Fossil Creek only the second river in Arizona to receive the National Wild and Scenic River System designation. The first was a section of the Verde River.
The designation ensures that the U.S. Forest Service manages Fossil Creek in a manner that protects the values identified in a proposal by AWC. These values include cultural, scenic, geologic, ecological, wildlife/fish and recreation. Water quality and quantity must be maintained.
The U.S. Forest Service will put together a Comprehensive River Management Plan that can take several years with the process beginning within the year. The Forest Service will have to hold public hearings. Those interested in participating and getting updates can sign up with AWC to receive updates at www.azwild.org. AWC has a cleanup weekend planned for Sept. 19-20.
On other issues, Rep. Kirkpatrick said Congress is beginning the debate about reforming health care and she wants to hear from people about what they want.
"I hope there will be a national conversation about what health care people want," she said.
Kirkpatrick wants to see a health care plan that will give everybody access. She said the country's economic problems cannot be resolved until health care reform is addressed.
On another issue, Kirkpatrick recently met with Navajo Nation leaders as she promotes bills dealing with weatherization and energy efficiency. She is also proud that as a freshman she co-sponsored the bill that lifted the Bennett Freeze. She partnered with U.S. Sen. John McCain to push this bill through.
"This bothered me since I was a teenager. People were totally prohibited from doing anything on their land in the Bennett Freeze," she said.
Kirkpatrick said the recovery on the Bennett Freeze has already begun.
She said funding limits keep her from opening a congressional office on the Navajo Nation, but the mobile office visits the Navajo Nation.
"We'll make every effort to be present at all tribal lands in the district," she said.