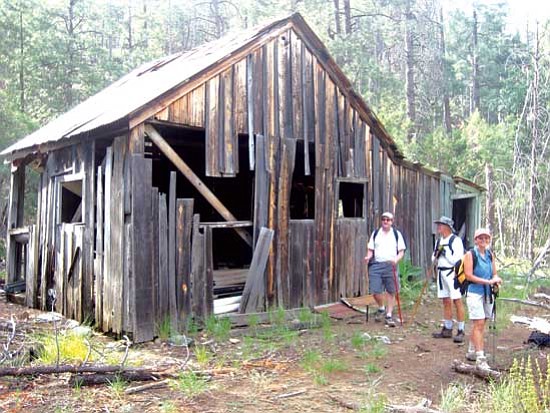 Originally Published: July 28, 2009 8:35 p.m.
PRESCOTT, Ariz. - When Janet Grossman leads a hike, prepare for pain. That's fellow hiker Tim Hopkins' outlook on the hike leader for this trek.
Grossman lived up to Hopkins' billing as she combined two trails - Venezia Trail 381 and E Cross L Trail 281 - for an eight and 1/2 mile roller coaster because of altitude changes. This hike was tougher than recent treks on Mt. Baldy and the San Francisco Peaks.
The combined trail starts at about 6,300 feet, climbs to 6,800 to Ash Creek Ridge, drops to 5,600, climbs back up to just over 7,000 before dropping back down to 6,300 to end the loop. Grossman went up and down the trail like a goat, but the others were dropping sweat like rain.
The combined trail was well worth the sweat due to a dozen types of flowers, plush green brush, deer, wild turkey, hummingbirds and an effervescent turquoise beetle.
The combined trail offers a wonderful contrast because a recent fire left some of the forest scarred while other parts of the trail are so thick with vegetation that Grossman brought mini-clippers to cutoff parts of brush that were sticking into the trail. Still, some parts of the trail were so thick that rather than cutting through the brush that Grossman and the gang roughed it through.
The trail only has a handful of signs but there are red or pink markers on the trees so that hikers can see the other side of the trail when they come to parts where the brush is thick.
Six members of the Prescott Hiking Club were along for this trek including Russ Fosha, Kaye Sullivan, Dani Keiko, Hopkins and Grossman.
One highlight of the Venezia Trail is the old Palace Station. This was an old stage stop, but not much of it remains now. It's still worth the look. As we started looking it over, this hiker heard a sound that he couldn't identify so I went toward the sound to investigate. It was an Arizona Black Rattlesnake. Oops.
This hiker has seen dormant small rattlesnakes over the years. This didn't fit into either category. Snake lovers can find a photo and description of this lovely snake in "Amphibians and Reptiles in Arizona" by Thomas Brennan and Andrew Holycross. Then compare it to the other rattlesnakes in the book because it appears to be one of the larger Arizona rattlesnakes.
If it had just stayed still, this hiker could have taken a good photo, but it slithered under the gutted Palace Station building.
"That rattlesnake was more than just warning you," Fosha advised.
But the rattle didn't sound like a rattle and maybe my principal is right when he advises on a set of hearing aids.
Motorcycles are allowed on this trail and Fosha had seen them here before, but none were spotted this day.
The Venezia Trail is a good summer hike because much of it is in shade thanks to ponderosa pine along with Gambel and Evergreen oaks.
The Venezia Trail is just 1.8 miles, but hooks up with the E Cross L Trail for those who want more. Ash Creek runs through parts of the E Cross L Trail so water is found periodically throughout this trek. Yellow columbine is found in bunches near the creek along with some yellow monkey flowers.
The bright redstart bird is known to grace the trail, but we didn't get to see it on this trip. Miners and ranchers are known to have used this area in the past, which accounts for the bathtub found by the creek.
Climbing out of E Cross L was uncomfortable. The temperature was about 80 degrees with at least that much humidity so everyone was glad they brought plenty of water. The climb was part of the way up Lookout Mountain, but returns to Ash Creek Ridge.
The E Cross L Trail is 6.5 miles when starting from the northern access. Four-wheel drive vehicles are required to reach either of these trails.