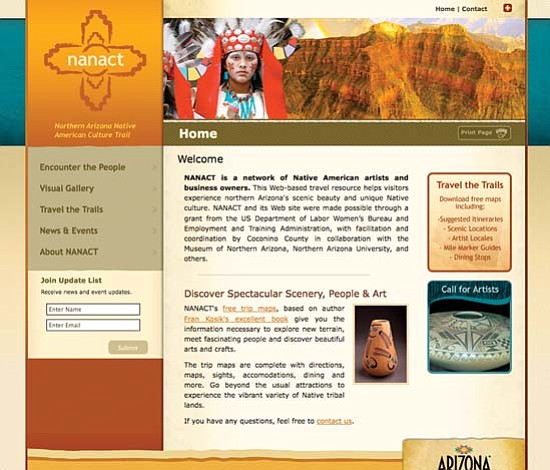 Originally Published: July 14, 2009 5:19 p.m.
FLAGSTAFF, Ariz. - The Coconino County Community Services Department, coordinating agency for the Northern Arizona Native American Culture Trail (NANACT) project, has announced the launch of a new Web site to assist travelers interested in experiencing Native American culture and art in northern Arizona.
NANACT is a collaborative effort between 100 Native American artisans and numerous support organizations helping to bridge the gulf between visiting tourists and the region's Native American culture. Each year, 4.4 million people visit the Grand Canyon, but very few ever experience the culture and art of the Native peoples who have lived in the region for millennia.
Entities collaborating on the NANACT project include the Museum of Northern Arizona (MNA), the Arizona Office of Tourism, Native Americans for Community Action (NACA), Navajo Nation Tourism, the Hopi Tribe, Rio Nuevo Publishers, and Northern Arizona University, with funding coming from the U.S. Department of Labor, Women's Bureau and Employment and Training Administration.
"Collaborating on NANACT's Web site development is very much in line with our mission to inspire a sense of love and responsibility for the beauty and diversity of the Colorado Plateau and the region's cultural heritage," said Robert Breunig, MNA director.
NANACT's Web site will allow millions of northern Arizona visitors to receive an introduction to Native culture and art as well as road trip suggestions, before they arrive.
"Tribal lands interest not only Arizonans, but also are a significant draw for domestic and international visitors," said Dawn Melvin, Native American Tourism Development Manager for the Arizona Office of Tourism. "The NANACT Web site will be a tremendous asset to visitors and will help them discover the amazing artisans, rich culture and incredible scenery that can be found on Native Lands."
NANACT is a locally adapted place-based, people-based tourism and economic development model piloted in western North Carolina by HandMade in America. Handmade's success in promoting tourism and boosting the local economy has been replicated in 13 other states. "The potential for economic development among Native American women artisans is why we have provided initial funding for NANACT and its Web site," stated Jenny Erwin, U.S. DOL-Women's Bureau Regional Administrator.
The NANACT Web site is www.nanact.org. If you have any questions about NANACT or the Web site, contact Scott Neuman, Community Collaborations and Economic Development Program Coordinator, Coconino County Community Services Department at (928) 679-7463 or e-mail sneuman@coconino.az.gov.