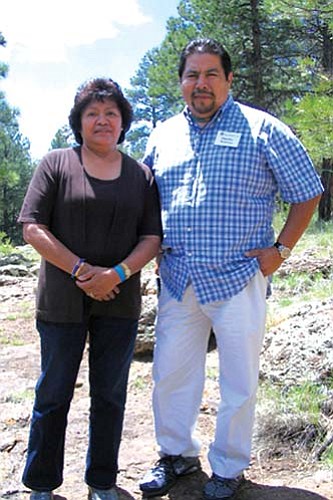 Originally Published: July 14, 2009 4:06 p.m.
HOPI RESERVATION, Ariz. - For the past six years the Hopi Education Endowment Fund (HEEF) has hosted a silent auction in conjunction with the annual Heard Indian Market in Phoenix. The silent auction is the HEEF's biggest event bringing nationwide patrons of Hopi art, Hopi artisans and friends of Hopi together in support of the HEEF's efforts for the education of the Hopi people.
Following a four-year tradition of artists and artist collaborations producing a signature piece for the event, world-renowned Hopi jewelers Verma "Sonwai" Nequatewa and Duane Maktima have agreed to combine their skills and talents to create a one-of-a-kind art piece for the Seventh Annual Hopi Education Endowment Fund Silent Auction. HEEF Marketing and Special Events Manager, Sam Tenakhongva stated, "It's a great honor to have two talented artists create the HEEF silent auction signature piece. Their donation demonstrates their commitment in providing current and future educational opportunities for our Hopi people and we hope other artists join them in these efforts."
"Sonwai", from the village of Hotevilla and Honanwungwa (Badger Clan), credits much of her influence to her uncle, renowned Hopi artist Charles Loloma, whom she served as an apprentice to. Aside from her uncle, Nequatewa also draws inspiration from her life growing up and living on Hopi and bearing witness to the landscape and the continual Hopi ceremonial cycle.
Nequatewa shared, "It is now our responsibility as the older generation to look out for the future of our people."
She feels her collaboration on the signature piece will help to accomplish this. Recognized as a master jeweler, Nequatewa brings femininity to her elegant contemporary jewelry, using the finest quality stones, which include coral, turquoise, lapis lazuli, opal, charolite, ironwood, sugalite, diamonds, pearls and fossilized ivory usually set in 18 carat gold.
As an ardent supporter of education, Maktima feels his contribution to the HEEF reflects the teachings his grandfather instilled in him, "giving back of yourself and talents to help others."
Maktima, also from the village of Hotevilla, began his art career over 30 years ago at the Museum of Northern Arizona Art Institute, serving a two-year internship.
Influenced by his Hopi background and incorporating contemporary design, his work is highly recognized for it use of materials such as stones, silver and gold and high level of craftsmanship.
In addition to the signature piece, the HEEF hopes to have over 50 other pieces of art available.
HEEF Executive Director LuAnn Leonard said, "We invite you to join us as not only is this a chance for you to get a piece of fabulous Hopi art, but also support Hopi Education programs such as the Hopi Tribe Grants and Scholarship Program."
Attendees can also look forward to an evening of entertainment, food, and of course, the opportunity to view and bid on exquisite Hopi crafts and original artwork including: baskets, paintings, prints, pottery, jewelry, katsina dolls, sculptures and various other media donated by Hopi artists
The 2010 HEEF Silent Auction will be held March 6 at the Hilton Garden Inn, 4000 N. Central Ave. in Phoenix, AZ. The HEEF welcomes all artwork donations and for more information on the HEEF visit www.hopieducationfund.org or contact HEEF staff at (928) 734-2275.