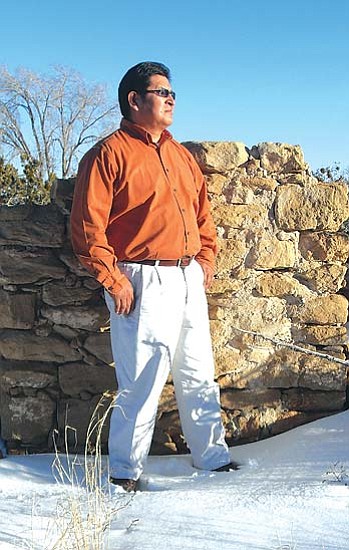 Originally Published: January 27, 2009 3:08 p.m.
KEAMS CANYON, Ariz. - Hopi radio station KUYI 88.1 FM, added up its listener's choice votes this year and for the second year in a row, Clark Tenakhongva has won a popular listener's choice award for Best Traditional Artist.
By day, Tenakhongva is a veterans outreach counselor, cattle rancher, and an award winning kachina carver, but his love of music has been with him since he was in grade school.
Tenakhongva was surprised to learn that he won again, because he knew he was competing against several other well-known recording artists like his friend, Navajo singer-Jay Begaye.
"I am guessing that my audience who voted for me, might be in the 40-year and older category because most of our young Hopis are listening to hip-hop, reggae, heavy metal and even country more than they listen to our traditional songs, so I am really pleased and just so grateful for those that do appreciate my music and were willing to send in a vote on my behalf. I really want to thank them for their support," Tenakhongva said.
To date, Tenakhongva has three CDs and is set to start working on his fourth later this spring.
This newest venture will focus on traditional children's songs and baby lullabies, mostly inspired by the birth of Tenakhongva's first grandchild born earlier last summer.
"I really admire all the Hopi teachers who are teaching our students how to speak and write in the Hopi language. I want to help support this language venture in any way I can, and since I am getting more and more requests to present at our local schools, it just makes sense to start with children's songs," he said.
Some of the resource song support that Tenahongva will research and gather materials from will be from his own family members.
"I am looking to my own brothers and possibly some of our elders in my home village to help with song origins like the ones we brought with us from Old Oraibi, and of course, I will use songs that I grew up with. I spoke with my recording company Canyon Records in Phoenix and they are supportive of my new idea of recording a CD with these lullabies and children's songs," he stated.
Tenakhongva added, "I also will translate some of the more popular English versions of baby songs like Old MacDonald, but will sing them in Hopi and would like to throw into the mix, the animal sounds to provide a richer background."
He also mentioned, "I have always wanted to ask Anthony Wakeman, who plays traditional flute music, to colloborate with me on a new CD, so this might be the chance to have him share some compositions."
How did Tenakhongva feel about being recognized as "Best Traditional Artist" and that those votes came primarily from his own home community?
"I am proud to say that in my home village of Hotevilla, our primary way of communicating in the kivas and in our cultural activities [is] the Hopi language."
"Most of the men in my age category and our older members, really try to impress upon our younger males to use our own language first to give instruction or to share information, so in that way we emphasize the importance of maintaining our own first language. It seems like a small thing, but hopefully, these younger members will understand why it's so important to keep our language alive. For our community, to see the value in my own traditional form of music as my way of contributing is just really satisfying, this award is really about their appreciation of that," Tenakhongva concluded.
More like this story