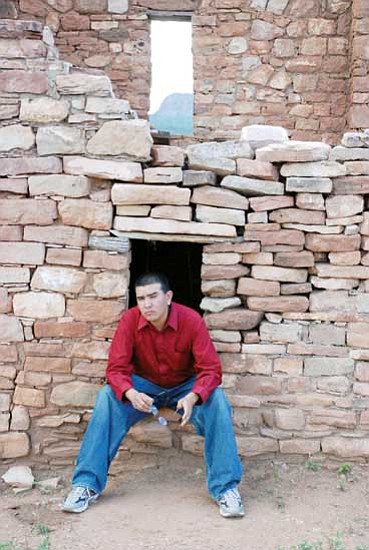 Originally Published: January 13, 2009 11:43 a.m.
ANAHEIM, Calif. - Tomorrow actor, musician and motivational speaker Shawn Michael Perry will team up with Hip-Hop artist Gabriel Yaiva and the organization Native Movement to premier his All That Culture: Music of the Americas and First Nations Project to coincide with the National Association of Music Merchants 2009 event in Anaheim, Calif.
Yaiva, who directs the Peace and Balance: Educating and Healing Through Music Project of Native Movement, finds the opportunity exciting.
"This is the first sponsorship of an all-Native line up. This opportunity will expose the Native music scene into the world of high end merchants in the music business - companies that manufacture guitars, amps and turn tables - all the way through people who create parts for the
instruments," Yaiva said.
"The event is also attended by important people in the music world," Perry added. "You can run into anyone from Slipknot to Stevie Wonder."
Perry and Yaiva met at an event several years ago at the Coconino Center for the Arts in Flagstaff.
"He does rock and country - I do hip-hop and the rawness. We both work to mentor youth. We both work to mentor youth in finding ways to live lives of balance, showing them from first hand experiences that it's human to stray from the path, but we try to find balance in our own lives. It just seemed natural to partner with Perry," Yaiva said.
"I recognized that we do a lot of work in the same areas with young people. We both see youth a catalyst to focus on traditional music and languages," Perry said. "We hope to be able to have a curriculum in place both at Navajo and Hopi as a test. We want to see language be a full-fledged part of school - and not just during the summer.
"Native languages should be offered in public schools just like French or Spanish," Perry continued. "Why do we have to accept mainstream society's interpretation that our languages are dying? Why can't it be hip to speak one's own traditional language? I think a lot of it has to do with how it is approached in school."
Perry knows many 16-year-old Navajos who can speak their language fluently, a fact that conflicts with the often-heard opinion that the language is too hard to learn.
"We don't have to force the language on them," Perry continued.
Music is an important part of the school environment, according to Perry. But he also insists that Native languages and music deserve a place in the mainstream.
"There is no reason that our music cannot be as commercial as any other genre," Perry said. "Performing at NAMM 2009 will be the first time Native Americans will be performing for Fortune 500 people. You don't hear Native music on mainstream radio because there are no sponsors.
"It takes half a million dollars to put a single on national radio," Perry continued. "No Native label has ever done that - but the music was always there"
"There are Native artists out there - somebody doing hip-hop or Country who could make a splash," he continued.
Perry looks to Native artists in the '80s, such as Red Bone, Edmund Red Bull or Buffy St. Marie as examples.
"We were creative then - why not now?" Perry asked.
Another challenge facing Native artists, according to Perry, is the high prevalence of music piracy on reservations - a situation that exists on the Navajo reservation.
"Pirates are taking at least $20 million out of the pockets of folks like Yaiva," Perry said. "There is no enforcement on Navajo - I think people are sympathetic to these folks, feeling that this is the only way they can make money."
Finally, Perry points out that out of the seven Native American record labels, none are Native-owned - an these companies own the rights of artists' music.
"We need to own and dictate how our music has been used - in movies or commercials, for example - instead of sitting in some vault somewhere," Perry said. "I look forward to a time where tribes will be able to buy back the rights to their music."
Perry is excited about working with his Navajo and Hopi colleagues at this event.
"I am excited to have Gabe - I was impressed with his message when I met him, and he's still doing what he said he'd do. He believes in what he does. He hasn't fallen from the mark," Perry added.
"I remember what people stand for. Hunter RedDay, who is not able to perform next week, and Casper, they are very professional. I want to be able to tell Native musicians, 'Hey, you know what - you are going to get paid well and get royalties - not,' I'll pay you next week."
"I look forward to the opportunity where Gabe, Clarence Clearwater, myself - whoever - would finally get paid for our work. We want to do good business," Perry said.
Through his work, Perry met Rhianna Deschinny, daughter of Annie and Gerald Sleuth.
"Gerald is one of the volunteer music instructors we are working with," Perry explained. "Rhianna, who is 11, broke her leg during a basketball game, and subsequently learned she suffers from bone cancer."
Deschinny will benefit from the proceeds of the NAMM event - and Perry has another dream for the young girl.
"She's really into music and into Miley Cyrus," Perry said. "I am a member of the Country Music Association, and I hope to arrange a meeting between Deschinny and Cyrus. I believe in the healing power of music."
Another goal Perry shares is a music camp, where Native youth can learn about music, recording, business sense, and other practical tools to succeed in the industry.
"At this time there is no such place for Native youth," Perry said.
"There is no better place to take this on than the Navajo Nation. We need to teach our kids to reach for the stars - and if they get knocked down a little, they still get something for their efforts."
NAMM is a not-for-profit association leading and strengthening the $17 billion global musical instruments and products industry. According to its Web site, NAMM "stands for its members every day by providing ongoing representation in Washington, D.C. on issues that impact the music products industry, including music education and education reform legislation and funding, small business health insurance legislation, estate tax reform, import/export laws and e-commerce tax reform." For more information about NAMM, interested parties can visit www.namm.org or call 800-767-NAMM (6266).
For more information about First Nations Project, contact Belinda at (951) 746-2052, or visit www.myspace.com/shawnmperry and www.OnlyTheBrave
Entertainment.com.
For more information about the Peace and Balance and Native Movement, contact Gabriel Yaiva at (928) 699-9601, or visit www.peaceandbalance.com and www.nativemovement.org.
More like this story