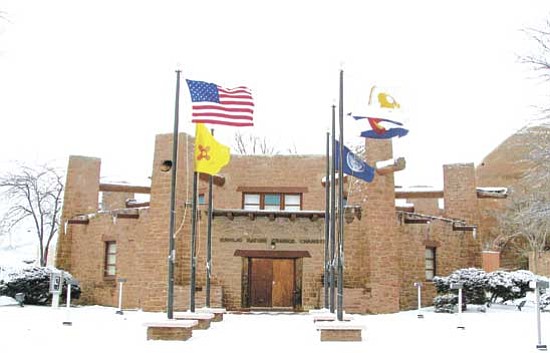 Originally Published: January 6, 2009 5:51 p.m.
WINDOW ROCK, Ariz. - The 21st Navajo Nation Council discussed and voted on several pieces of legislation during a special session held Dec. 23, at the Navajo Nation Council chambers.
The first issue discussed was Legislation No. 0543-08 relating to resources and it involved an intergovernmental agreement between the Navajo Nation and the Colorado Water Resources and Power Development Authority, the San Juan Water Commission, the La Plata Water Conservancy District, the Southern Ute Indian Tribe and the Ute Mountain Ute Tribe.
The Council voted to establish the Animas-La Plata Operations and Maintenance Association and also voted in favor of a limited waiver for sovereign immunity. The Council voted 65 in favor and 12 against; the sponsor for the legislation was George Arthur, Norman John II and Francis Redhouse.
The Council also voted 61-10 to approve Legislation No. 0683-08 terminating a Memorandum of Agreement from 1970. The MOA was between the National Park Service, the Bureau of Indian Affairs, the Bureau of Reclamation and the Navajo Tribe of Indians, relating to the use and development of the Glen Canyon National Recreation Area and Adjacent Tribal Lands. The legislation was sponsored by Council Speaker Lawrence T. Morgan and was co-sponsored by Cecil Eriacho.
The Council also approved Legislation No. 0761-08 amending the Navajo Nation 2009 Fiscal Year budget by approving a supplemental appropriation from the Personnel Lapse Fund in the total amount of $5,680,000. The legislation gave $110,000 - $1,000 to each chapter - for Chapter Christmas activities. Several amendments were made including language to give a total of $2,620,000 - $20,000 to each chapter - for discretionary funds. The legislation also gave $200,000 to the Office of the President for financial assistance and $2,750,000 - $25,000 to each chapter - for winter emergencies. The legislation passed with a vote of 68 in favor and 11 opposing. The legislation was sponsored by Young Jeff Tom.
Finally, the Council voted to override the Navajo Nation President's veto of Navajo Nation Council Resolution CO-38-08 of Legislation No. 0798-08. The veto by the Council will keep the amended changes to Navajo Nation Code 10, section 6, approved at the 2008 Fall Session. The amendment of the Navajo Nation Code clarifies that the Education Committee will represent the Navajo Nation in consultation with state and federal governments, and not the Navajo Nation Board of Education. The Council voted 72 in favor and 3 oppose. The legislation was sponsored by Willie Tracey Jr.
In other Council business, the Council also accepted a report from Attorney General Louis Denetsosie.