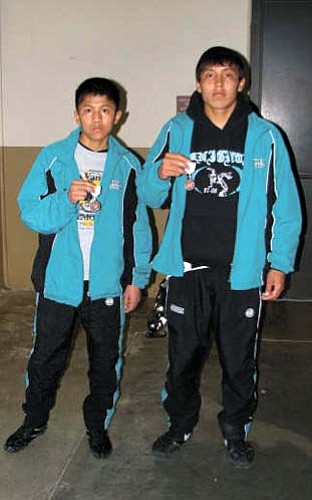 Originally Published: February 24, 2009 4:15 p.m.
PRESCOTT, Ariz. - On Feb. 7, Greyhills Academy senior Garrett Manygoats and sophomore Kevin Tso captured third place medals at the 2009 2A Arizona State Wrestling Championships at Tim's Toyota Center in Prescott Valley.
Manygoats, who wrestled in the 135-pound weight class all year, was excited to win third place where the field is very competitive. Manygoats went 5-1 for the tournament after losing a very close match in double overtime to Pima (Woods) 2-1 in the quarterfinals. After that match, Manygoats regrouped knowing that the championship had slipped through his hands.
Manygoats won the next four matches completing his third place finish. Last year Manygoats finished runner up at state. In the end, Manygoats said, "I have no regrets, I did my best and tried my hardest. I wanted to win my last match of my high school career and I did."
Manygoats finishes with 39 wins and 11 losses. In his final match, he faced Thatcher (McBride), a very tough competitor, going three periods and getting the victory 3-0. "My arms were burning, but I had to hang on to win." he said. At the whistle, Manygoats pointed into the stands where his family was seated to seal the deal.
Tso, a sophomore in his second year of wrestling for the Knights, has placed himself among the 2A elite, eventually finishing third in the 103-pound weight class. Tso wrestled with consistency and his hard work ethic paid off for him with his only loss in the tournament (5-1) coming from San Manual (Pena). He finished with 38 wins with 12 losses. Tso began the season with a championship at Pat Kenny Invitational, fourth place at Tim Van Horn and second in regionals at Mogollon.
"All my hard work paid off," he said about winning third place. "It felt good to win with Garrett making his senior year memorable. I knew I was going to place at state. It was very competitive to make my way back into the medal rounds."
Tso faced Camp Verde (Brown) in a tough match going into overtime, but he pulled ahead and won 9-4.
The Knights wrestling team finished the season with a 13-7 record overall and with two seniors graduating, they expect to be competitive next season with Tso leading the team. Greyhills assistant Les Helton, whose experience in the sport spans over 20 years, has been an asset in helping young wrestlers in the development in the sport of wrestling.
Helton's advice at practice, during and after the match helps wrestlers with improving on their technique.
"I could see that Garrett and Kevin really improved their wrestling. They fought their way back into the matches and won. Both had tough brackets," he said.
Commenting on Mangoats' match, Helton stated, "He gave his all. He worked hard in practice and took advice well. He gave 110 percent. He came back even when he trailed [and] used what he learned and came out on top and Kevin did the same, too."
Assistant Coach Linda Curley volunteered her time in her first year of coaching.
"I knew we would do great. Sitting in the middle of the tournament was an experience for me, an andreline rush, especially seeing the boys win," Curley said.