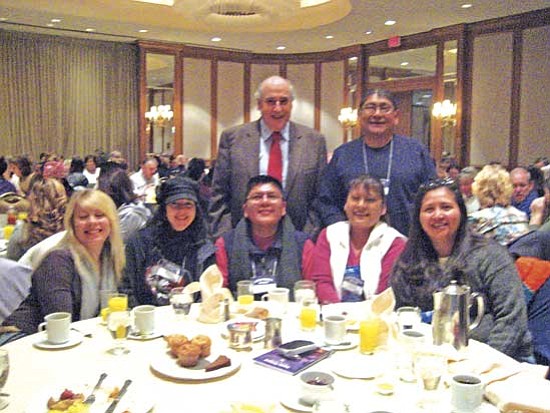 Originally Published: February 10, 2009 3:41 p.m.
WASHINGTON, D.C. - Technology can be a curse toward education, but it can also bring opportunities.
That is the message Dan Glickman, president of the Motion Picture Association, had for the audience Jan. 18 at L'Enfant Plaza Hotel in the nation's capitol.
Glickman, a former congressman and former Secretary of Agriculture under then-President Bill Clinton, was addressing an audience of Close Up chaperones including four from Hopi Jr/Sr High School. Lucille Sidney and Paul Sidney were representing Hopi High while Principal Albert Sinquah and Anjeanette Sangster were representing Hopi Junior High.
Glickman said YouTube and the Internet bring a new world to youth, but some of the information is not good or reliable. However, he said educators have to find a way to use technology to keep students interested.
Lucille Sidney, a government teacher at Hopi High, later agreed that educators need to use technology more especially in remote areas like Hopi.
"We can't get the national papers on a daily basis," she said.
Sidney said Hopi High School's technology is adequate. She said its Internet service and speed is as good as Northern Arizona University, but she would like to see students trained better on how to utilize the Internet as a resource
"You have to learn how to access the sites," she said, adding that the teachers need more training.
Paul Sidney, a Hopi police officer and Lucille's husband, said sometimes Hopis are afraid that using technology will infringe on their culture.
"We need to be open minded and not limit our children on how they learn," he said. "There's nothing on the computer that's anti-Hopi."
Glickman said President Barack Obama is good for the country and particularly the youth because he's talked about being more inclusive and having higher ethical standards.
"If young people believe in the system they are more likely to participate," he said.
Glickman said President Obama has a teaching opportunity to tell youth what America is about, what is the role of government and individuals. He said it's important that youth realize that if Obama can become president that anybody can become president as Obama came from a dysfunctional family just like many of today's youth.
Lucille Sidney agreed that Obama has inspired a lot of youth to come out and vote for the first time. Paul Sidney said he is glad that Obama has helped people with a diversity of backgrounds to get involved with politics and the hope that anybody can become president.
"This president makes it easier for our kids to go to college because there's less discrimination," he said.
Paul Sidney was thrilled that Glickman referred to the agricultural workers as warriors because they are responsible for feeding people.
"Hopis are environmentalists and into agriculture," he said.
Glickman also spoke about the importance of education and teachers. He said education is a factor in finding success with the role of the parents coming first and the role of the teachers second. He referred to the movie Schindler's List where the hero is told that "if you saved one life then you saved the world." He feels teachers do this every day.
Glickman linked politics with movies. "The world knows us by film," he said.
During President Clinton's administration, a survey showed the three best known Americans in the world were Arnold Schwarznegger, President Clinton and Jackie Chan.
As president of MPA, Glickman said he knows many young people use file sharing to download movies and music. This causes musicians and those in the movie industry to lose money.
"Whose going to work if nobody gets paid?" he asked.
Glickman also told the crowd that Hollywood is not driven by the liberal elite as some believe. He said movies are demand driven with money serving as the bottom line. He said Hollywood employs 1.5 million people and is run by multinational public companies.
Glickman said those working in Hollywood tend to be more left than right politically because those are the ones who are more creative.
Glickman said there is little censorship for movies and pointed out that Oliver Stone's movie about George Bush hardly drew any notice from the government. In many other countries that would not have been the case.
Glickman said he appreciates the American system of checks and balances because the framers did not want any one person in charge. He said, unfortunately some in the Bush administration "played footsie with the idea of president as monarch."
"You don't just give up power to the president as Congress has sometimes in the past," he said.