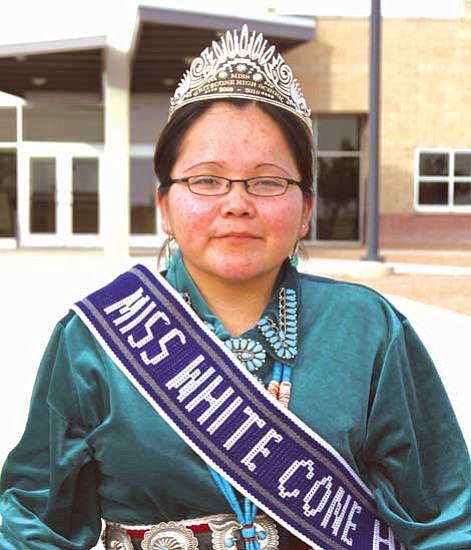 Originally Published: December 22, 2009 3:08 p.m.
Hello. My name is Sherese Nez. My clans are Big Water, born for the Tower House Clan. My grandpa's clans are Bitter Water People and my paternal clan is the Salt People. My grandparents are Cecil Begay, my grandfather. He is from Dilcon. My grandmother is Anita Begay. She is from Rock Black, it is a little valley between White Cone and Greasewood.
My father is Bruce Nez. He is from Horse Standing, which is almost past Dilcon and Winslow. My mom is Lavina Nez from Rock Black, the same place my grandmother is from. I usually stay with my grandparents.
I go to school every single day at White Cone High School. I am 16-years-old and am a junior this year. I was born Jan. 22, 1993.
Last year, I was wearing Navajo jewelry to school, because I am proud of who I am as a Native American and I try to keep our tradition alive. But I am also trying hard in school and doing my duty as Miss White Cone High School. I go to ceremonies every season. Sometimes I participate in them, too. I mostly respect them and our elders and I listen to my grandparents talking about our Diné people. My family talks mostly in Navajo with very little English. But it is a gift from the gods that they gave us this language. It is so wonderful and beautiful, the Navajo language.
I like the beauty of our culture and how our tribe dresses with all of the beautiful jewelry we have along with the amazing hair styles, like the Navajo hair bun. Also the beauty we walk in our moccasins on Mother Earth. I like the way I am as a Navajo, and I listen to my elders who teach me. I respect everyone where ever I go. We eat tasty traditional foods such as corn. My grandmother teaches me how to grind corn and many other things.
I would like to say thank you to her and my family members and relatives, too. I will do my best to go on. Have a wonderful year with happiness in your hearts.
More like this story