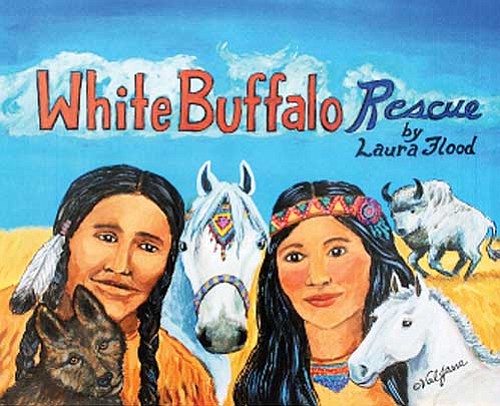 Originally Published: December 15, 2009 3:22 p.m.
Laura Flood recently penned an updated, more animated version of her work, the "White Buffalo Rescue," for children. The children's book is available for purchase prior to Christmas.
Flood originally penned the book in 1995. The children's version is illustrated with photographs Flood took over the years. Flood said many fond memories returned while she was writing the book.
"Writing 'White Buffalo Rescue' was such an adventure. When you really enjoy a work and can laugh and cry through it, you know it's worthwhile," she said. "When going through 20 years of photographs to illustrate inside, I found a message from Henry, an Apache Indian I guided trail rides with. I didn't know he wrote on the back 'Your friend always.' His wife had made beaded burden baskets I gave to others as a gift."
"White Buffalo Rescue" features the adventures of Singing Bird and Laughing Hawk as they ride the Montana Plains. The young maiden and brave seek to protect a rare, white buffalo cow from tribal members who have not heard the wisdom of the elders. The buffalo spreads the symbolic message to live in peace and consider others over self and possessions. The book contains suspense along with the introduction of a host of charming animals that include a wolf dog.
"I also found it a great paradox, that while loving the fresh outdoors, wilderness, helping on ranches, riding horses and or hiking with my dog, as every writer and editor knows; there is a great sacrifice indoors at the desk, where months of research and writing has do be done. It is good discipline," said Flood. "It's very special to offer a story to children and all young at heart that finding life's greatest treasures requires boldness and courage. It also requires a good measure of humbleness - a give and take, when you treasure people and animals over possessions - the main theme in 'White Buffalo Rescue.' Enjoy the adventure."
Flood is an Arizona native who loved writing stories as a child and riding her horse. She has contributed to many magazines and newspapers, in addition to guiding horseback rides in the west.
The book's cover was designed by ValJesse O'Feeney of Williams. O'Feeney has painted murals for businesses and is completing three coffee table books on her life training horses, and working at ranches from Alaska to Arizona.
To purchase 'White Buffalo Rescue,' e-mail Flood at floodphotowriter@cableone.net or call (928) 636-7147. Cover prints can be purchased from O'Feeney by calling (928) 890-7177.