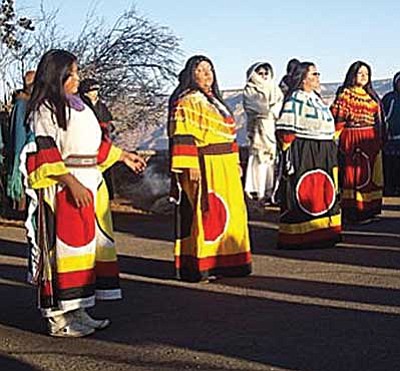 Originally Published: December 10, 2009 4:28 p.m.
GRAND CANYON, Ariz. - Early morning visitors to the South Rim of the Grand Canyon were witness to a very special sunrise service Dec. 2, as members of the Havasupai Tribe welcomed a delegation of the 13 Indigenous Grandmothers with a special blessing and ceremony. Members of the tribe also treated a member of the Grandmothers group, Mona Polacca, to a welcome home ceremony. Polacca is a bloodline relative of the Havasupai, Hopi and Tewa tribes, according to James Uqualla, Havasupai Ceremonial Liaison.
The 13 Indigenous Grandmothers represent a number of spiritual medicine woman and wisdom keepers from locations throughout the globe. As per the ancestral protocol of the Havasupai, medicine carriers who visit the area are welcomed to the "alter of the Grand Canyon" with songs and dances of the spiritual Gods and Watchers of the Medicine Canyon. The Dec. 2 ceremony was held with at sunrise and the "welcoming embrace of the rising sun." The visit of the 13 Indigenous Grandmothers came as part of the seventh council, held in Arizona.
Uqualla said the group welcomed the opportunity to honor the visiting delegation.
"The Havasupai Nation have long been the stewards of Grand Canyon and continue to promote the spiritual practices of ancestral teachings, the Mother Earth, for without there would be no surface to walk, talk, breathe, sing or dance on," Uqualla said.
The 13 Indigenous Grandmothers is a group composed of members from the Amazon rainforest, the Alaskan Tundra, the mountains of Tibet, central Africa and a number of locations across North America. The group's goals are to help protect the destruction of indigenous cultures throughout the world, as well as projects to help the ecology of the planet itself. For more information on the group, visit their Web site at www.grandmotherscouncil.com.