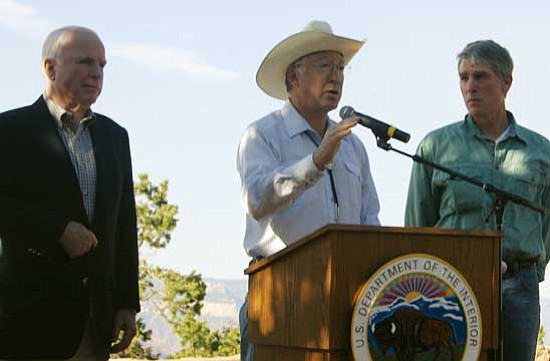 Originally Published: August 25, 2009 12:33 p.m.
GRAND CANYON, Ariz. - Interior Secretary Ken Salazar, Colorado Sen. Mark Udall and Arizona Sen. John McCain paid a visit to Grand Canyon National Park Aug. 21, where they spoke about a number of issues related to the park, such as uranium mining and water flows out of Glen Canyon Dam.
Salazar enacted a two-year ban on new uranium mining claims roughly one month ago. He called the two-year "time out" an important decision.
"The thought in mind, in the best way in which we manage our very precious, these crown jewels of America, is making sure that we make the right decisions. Having an opportunity to look at these issues over a two-year period will, at the end of the day, allow us to make a better decision that ultimately achieves the vision that both Senator McCain, Senator Udall and I have and that is that we are protecting the Grand Canyon National Park and its environs for everyone," he said.
When it comes to existing mining claims, he said those will proceed with all applicable laws.
McCain said he believed the interior secretary had taken a personal interest in the issue of uranium mining.
"He understands it, having been senator from the state of Colorado," McCain said. "This time out will give us time to look very carefully at areas that need to be protected. The last thing that any of us want to do is do anything that would harm the Grand Canyon. I would remind you, when we did the Wilderness Act, in the Arizona Strip, we specifically left areas open for multiple use purposes. Secretary Salazar has made the decision. I respect that decision and this will give us all time to sit down and work on a way to make sure that we provide the needed protections to the Canyon."
A number of individuals were on hand for the Aug. 21 press conference, including representatives from the Sierra Club and other organizations.
"The Sierra Club folks were here today to urge Senator McCain and Senator Udall to support a Senate version of the Grand Canyon Watershed Protection Act," said the group's southwest regional representative Andy Bessler. "That would permanently protect the Grand Canyon watersheds from new uranium mining on a permanent basis. Secretary Salazar's is a two-year temporary, up to 20 years potentially. We need to do that because of the outdated 1872 mining law, which needs reformed."
When asked about Glen Canyon Dam and water flows for the southwestern state, Salazar said the Department of the Interior would remain very involved in the issue.
"The water flows along the Colorado River and the Grand Canyon are very important to the southern states and the millions of people that share the water and share the values of the Colorado River," Salazar said. "We have had peace on the Colorado River for many years now, partly because the relationships among the seven states have been respected and we have been able to work through difficult issues like surplus criteria on the issues of drought. We expect to have that same kind of approach. What I will do as Secretary of the Interior is to make sure that my department, with key people, is involved and engaged with the states so that the Department of Interior is speaking with one voice. We will not be speaking with one voice through the window of the Bureau of Reclamation and another voice through the window of the National Park Service. We will have one voice that will be guided by our legal mandates and our requirements to work with the states to ensure that we are doing the best that we can."
Salazar called his new position as Secretary of the Interior a "great honor."
"It is, for me, just an incredible honor as Secretary of Interior to be a part of helping with our treasured landscapes of America, to recognize the great enjoyment that comes from our natural heritage to so many people that visit our national parks, our wildlife refuges, our BLM lands and all of the great parks that are America's story," Salazar said.
"I'm here at the Grand Canyon National Park today to recognize that we are so much a part of the economic engine of America. There are over four million visitors that come here every year. There are over 10,000 jobs that are created, just because of the fact that there was a vision to preserve this great natural wonder."
Looking ahead, Salazar said he looking forward to working with Jon Jarvis, the new head of the National Park Service, and with Grand Canyon National Park Superintendent Steve Martin.
"This is one of the World Heritage Center (sites) right here at the Grand Canyon," Salazar said. "This is one of the seven great wonders of the world. Thirty-three percent of the people who come here every year are from other places throughout the world. It's a place where we don't know each other as democrats and republicans or independents. It's a place where we know ourselves as Americans. As we look forward to the coming months, where Ken Burns will be sending forth his new documentary on "America's Best Idea" the national parks, we can take tremendous inspiration from the fact that here at the Grand Canyon, this has been a place of great unification and great possibility for all of us."
Senator Mark Udall spoke during the Aug. 21 press conference about his birthplace of Arizona and the work Senator McCain and his father, Morris "Mo" Udall, performed on behalf of the country.
"They took the United States and their titles seriously and Senator McCain has served his country well and long and ably. He's extended the hand of friendship and mentorship to me," Udall said. "We're going to go up to Colorado in a couple of days and visit Rocky Mountain National Park, another one of Crown Jewels in the national park system."
He said he would always consider Salazar to be his "senior senator."
"When he left to take the helm of the interior, he in fact made me the senior senator from Colorado after 16 days in the senate," Udall said. "He's building on the Udall legacy in the Department of the Interior and will create his own legacy. Of that I have no doubt. He has so many plans, so much inspiration and so much vision. It's exciting to see him in this new and very important role."