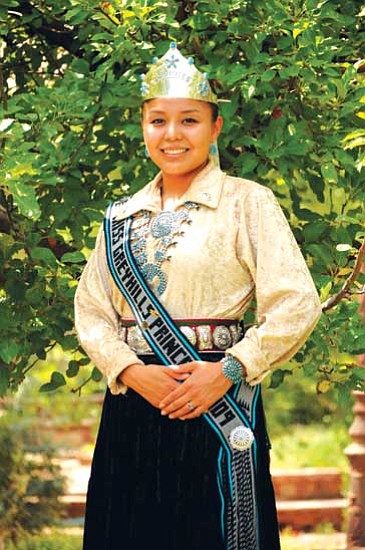 Originally Published: August 25, 2009 11:13 a.m.
TUBA CITY, Ariz. - Valentina Badoni, the current Miss Greyhills Princess, is ready to crown the new 2009-2010 Miss Greyhills Princess. Badonie, of Cameron, is the daughter of Louise Badoni of Wupatki and Cameron, and Teddy Bedonie of Big Mountain.
This year's Miss Greyhills Princess Pageant is scheduled to begin at 10 a.m. DST on Saturday, Aug. 29. It is open to Greyhills Academy High School female students in grades 9-12.
Badoni, 18, who graduated from GAHS last May said students should enter the pageant for the learning experience.
"I learned how to think quickly," Badoni said about her reign as Miss Greyhills Princess. "[Students who run] have the opportunity to get out and promote [their] traditional values and teachings."
Badoni said the highlight of her reign was when she attended this year's Gathering of Nations in Albuquerque, N.M., organizing "Law Day" at GAHS, organizing a Veterans' Recognition Dinner and organizing a canned food drive for needy GAHS students during the Thanksgiving holiday.
However, Badoni said, "All of my events are unique and special."
Badoni, who works full-time, said that her plans are to enter the Miss Western Navajo Pageant and eventually run for Miss Indian World during the Gathering of Nations.
She wants to graduate from college and earn a law degree in family law.
Badoni wants to thank her family and the community for their encouragement and support during her reign.
The 2009-2010 Miss Greyhills Princess Pageant tentatively includes Contemporary Talent, Contemporary Skills, Traditional Talent and Traditional Skills.
The mission of the Miss Greyhills Princess is to promote the ideals of the Native American Community and Navajo/Hopi Nations with dignity, grace and friendship. Miss Greyhills will represent a dedication and commitment to education, leadership and cultural awareness.
Miss Greyhills is also honored for her continued endeavor to strive for the best and to be a voice for all Indigenous people.
Applications to run for Miss Greyhills are available at Marlene Brown's office at Greyhills Academy High School.
For more information, call (928) 283-6271 or visit the GAHS Web site at
www.gahs.bia.edu.