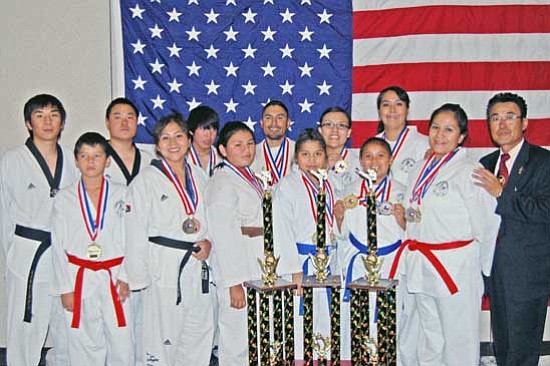 Originally Published: August 11, 2009 7:07 p.m.
(Editor's note: The following article was written from the standpoint of a single parent.)
At first, every practice was an ordeal to get her to go. She hated it. I loved it, hence, the problem.
WINSLOW, Ariz. - As most parents of adolescent children know, the challenges of trying to raise our children "right" in the face of current societal influences can be overwhelming, especially for single working parents. With enormous responsibilities as a sole provider, the frantic pace becomes common. It can then be an enormous feat to keep a connection with our children amidst all the distractions, especially as they grow older.
With that in mind, I felt that it was crucial to continue to find a purposeful and healthy activity for my daughter to participate in. She had done the soccer leagues in the summer and a year or two in a national dance program. We had traveled around the southwest for her dancing competitions, to different states competing against different people. She danced at Disneyland and California Adventure. Then she stopped. I was fine with her decision and we marked it up to experience. While she dragged her feet "looking" for activities, I heard slight mentions of a taekwondo class for kids being sponsored by our organization. Initially, I didn't put much thought into it. Then one day, I heard an announcement for a trial adult class. That idea made me pause longer to consider the possibility, since I admit I've always wanted to learn martial arts since I was young. I then considered the most important lesson my daughter and niece could learn, self defense. I made the call and enrolled my niece, my daughter and I. At first, my daughter hated it while I loved it. Every practice day was an ordeal just to get her dressed and in the car to go. But we made every practice and gradually she began to pick up the lessons.
There were many appealing aspects of taekwondo for me, both as a parent and as a student. It was a structured activity, one that not only emphasized fitness and exercise but it had a strong lineage of tradition. I felt a sense of pride when I understood that what I was learning was a reflection of our Grand Master Ha and the long line of tradition from Korea. Plus, honestly, I thought it was awesome that I could still get two inches off the ground with beginner kicks and hops! Taekwondo also stressed the same important characteristics I was trying to teach my child, perseverance, integrity, honesty and courage, to name a few. Yet as I would catch glimpses of her rolling her eyes and heaving big dramatic sighs whenever this was brought up in class, I would take deep breaths. I knew she was very young and didn't understand just yet about what team means, or practice, dedication and goals. However, if we stay committed to our goal, she will eventually understand the magnitude of the attributes and how positive a role it could play in her life, not to mention reaching her black belt. Personally, I believe it would be an incredible accomplishment for me to receive my black belt as a mom at my "age", alongside the girls.
Today, many parents in our Winslow class can say the same. Mothers, fathers, daughters, sons, nieces, nephews, sisters, brothers and cousins make up a large of our combined classes. Nowadays, it is common to hear people saying we need to strength our families, to have family dinners to "get everyone back together." I personally believe that the Black Belt Academy made its best move by creating the adult class that allowed families to join together.
Belt testing: What have I gotten myself into?
Our first belt testing came fast and despite our nervousness, we succeeded to our next belt. This was a moment, an event, a test that my daughter, my niece and I shared at the same time. Our nervousness was the same; the butterflies in the pit of our stomachs were identical. We all went up individually, performed the routines, blocks, hits and kicks. We each stood in front of Grand Master Ha and passed his test. I could honestly and completely say that I know what they went through. I knew then that this was a journey that we shouldn't stop, that despite all the eye-rolling and big sighs, it would pay off. I have the unique perspective of pushing my daughter hard and then being pushed hard by her as we both struggle with the newest complex kicks and countless push-ups (ok, I struggle).
We began our next training for the next level and while my niece was thoroughly enjoying herself, this where I first heard my daughter's questions "I hate this, why do I have to go?" followed by "When can I quit?" It became a routine on Monday and Wednesday evenings until finally, one day I answered back honestly "When I quit". That ended her questions for a minute. Then, "When are you quitting?" I answered, "At least when I get my black belt". Silence...she knew her "sentence." As we kept going, the practices got tougher, techniques became more challenging, knee kicks turned into more complex kicks. Kids mastered the kicks fast. I was still thinking "You want me to do what? Wait, can my body do that? I'm over 30 years old! What have I gotten myself into?"
Competition: a completely different world
With a year into the program, we made our way to the intermediate class. Recently, my younger sister, her son and her husband joined. We began hearing of competitions. Honestly, I never really thought of competing for either my daughter or I. So we didn't try the first time but my niece did. She competed at the 2007 USA Southwest Open Taekwondo Championship in Phoenix and did quite well, earning herself a bronze and silver medal. When she came back with her shiny medal and flow aglow with accomplishment and pride, I reconsidered competitions. It wasn't for the shiny medal but rather the idea of trying something new, to say we tried it also at least once. In 2009, my daughter, sister and I competed for the first time in Chandler at the 2009 USA Southwest Open Taekwondo Championship. Once again, the unknown of competing was a little scary but just a small bit exciting, at least for me. While I spent most of my time trying to calm my daughter's fears of competing, including getting kicked in the head, I was echoing the same fears in my head for both of us. Instead of sitting in stands watching, I was on the floor with her, in my own competition of forms and sparring. Butterflies were at the highest peak and nervousness was off the charts and I'm sure my facial expression mirrored my daughter's. Thinking back, deciding to compete at the time in our training was a good move. I hoped my daughter would eventually break out of her shell of shyness. It took a sparring match against a 12-year-old red belt, two belts higher, to bring my daughter out and up. For the first time, I saw the gleam in her eye, her confidence strong in her stance and her rise to the challenge. Her match was the most exciting one that day, with my sister's match coming in as second most exciting. As I stood screaming from the side of the ring, watching her attack and counter-attack, I felt an explosion of pride as I watched her. Despite her loss in sudden death after three great rounds that ended in a tie, she was happy and satisfied with second place, bringing home two silver medals. Feeling the euphoria and pride, I shouted the all-familiar roar parents do, "That's my kid!!" Then it was my turn. The experience was completely different and I learned a lesson in "thinking too much". While my sister and daughter rose to the occasion, I admit allowing myself to be intimated by a much younger, faster and higher belt than I. Although I took a tie for third place, earning a bronze, I knew I had to improve myself. But through it all, during my match, it felt great to hear a familiar voice screaming "Come on, mom!! Watch her kicks!" Of course, I could hear my coach but my daughter's screams of encouragement pushed me more. My sister was in her element and as usual, did extremely well. My sister competed against an adult female green belt, which was two belts higher than her. While I did so-so, she dominated the match and won, taking first place, a gold medal. Spirits and self-confidence were high all around. Practice continues, some days challenging, others downright grueling but we could feel ourselves getting stronger, a little bit faster and more controlled in movements.
The Jr. Olympics? Are you serious??
After another competition in El Paso, we first heard whispers of the "Jr. Olympics/Nationals" in Austin, Texas. Then a week later, approximately six kids were chosen to go, with five from the Winslow class and one from Tuba City's class. My daughter and niece were among the selected. Practices intensified and preparations began. It was a frantic time, with a short deadline approaching and fund raising opportunities being extremely limited. The booster club helped as much as they could and we had a tremendous donation from President Joe Shirley Jr. of the Navajo Nation in support of the children's opportunity. In the end, due to high costs and the expired deadline of registration, two kids remained at home. In July, four students went to the Jr. Olympics in Austin.
Even now, it is difficult to try to describe the experience we had in Austin. We went on the day of our boys' competition to support them. One of our two boys tied for third, taking home a bronze medal. They gave their best effort and that was all we could ask of anyone. We had a day off and decided to take the kids to Sea World in San Antonio as a break from the tension and nervousness of competition. There were the evening walks to local restaurants and enjoying the splendid scenery of downtown Austin. Many great moments shared with family and team members. The only vivid memory I still have today is standing there in the convention center, on the morning of the girls' competition, waiting for an announcement of ring assignment of where they'll be....and the National Anthem begins. Everyone stands, athletes, family and visitors, hands over heart as the anthem continues. People singing along and in that precise moment, I had such a moment of clarity and indescribable emotion as I realize that the same national anthem that played for all our American Olympic athletes in history is now playing for my daughter and niece. In all her short years, my daughter experienced many things, many joys, some heartbreak when her father and I divorced, rebuilding, learning new things, making new friends, her Navajo traditional rite of passage, and happiness. How incredible was it that we now find ourselves standing in Austin Convention Center, ready for her to compete in the Jr. Olympics in Taekwondo. There were many other memories and recollection of their matches and their efforts. My niece was almost unstoppable and had fun making her way to second place for a Jr. Olympic silver medal. To have the courage to step into the ring even though my kid was afraid is something I treasure, especially since it's an experience I'll never have. The outcome may not have been what she wanted but just the same, I wouldn't trade those days for anything. She is now saying she's enjoying class and she is taking it half seriously. She even asks for extra practice days from the instructors! She still doesn't quite comprehend that she had competed and placed third in the Jr. Olympics, bringing home a bronze medal. As she sees it, this was the same as the other tournaments we've done. If that's what she thinks, I wonder what she feels of the experience of meeting the famous Lopez family in Austin!
Regardless, it was one of the most memorable experiences I've had and never had I been proudest of my girls than that day. All this started from the day I called to sign us up. The girls are young, their futures bright and full of possibilities, including the Indigenous Games, if they choose. I just want to make it to my black belt with my body in one piece! My biggest reward is combining my love of sports, sharing time and experiences with my daughter. Hopefully, we will reach our goal and keep on going.