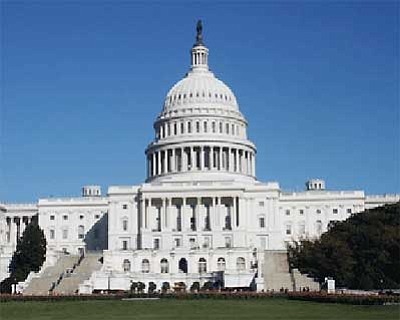 Originally Published: April 21, 2009 10:39 a.m.
WASHINGTON, D.C. - The House of Representatives today voted unanimously to repeal the "Bennett Freeze" law that virtually halted economic growth in western Navajo Nation and on Hopi lands for four decades, marking a major legislative victory for Arizona's Congressional delegation, who worked aggressively to remove the law.
This latest victory ensures that the federal government will not stop development in greater Arizona. They introduced companion bills that would repeal the "Freeze" and worked across party lines to guarantee the swift passage of that legislation.
"Far too many people in tribal areas lack basic necessities like running water and electricity, and they deserve to know that their government will not stop them from pulling themselves out of poverty," said Rep. Ann Kirkpatrick. "Today, members of the House from both parties helped make sure Washington bureaucrats won't stand in the way of folks trying to improve their homes and develop their communities again."
"I'm pleased Congress passed S. 39 and look forward to it being signed into law," said Sen. John McCain. Earlier this year, Senator Jon Kyl and I introduced this important legislation, which was approved by the Senate [last month.] I commend our colleagues, Congresswoman Ann Kirkpatrick, Congressman Trent Franks, and Congresswoman Gabrielle Giffords, for introducing a companion measure and for helping to secure passage of S. 39 in the House of Representatives. This legislation brings closure to an unfortunate saga that started long before Arizona was brought into the Union, and ends in today's era of tribal self-governance and self-determination."
"For far too long, members of the Navajo Nation and the Hopi Tribe have dealt with the consequences of a longstanding land dispute and the resulting 'Bennett Freeze,'" said Senator Jon Kyl. "This legislation helps brings to a close a century-long dispute and marks a new chapter in relations between the tribes."
The Bennett Freeze was the product of a longstanding land dispute aggravated by the U.S. Government's arbitrary delineation of Navajo and Hopi reservation boundaries. In response to a myriad of legal questions and court challenges concerning the settling of Navajo on Hopi territory and vice versa, Bureau of Indian Affairs (BIA) Commissioner Robert Bennett in 1966 issued an administrative order banning housing construction and development on approximately 700,000 acres. In 1980, Congress stepped in and amended the Navajo-Hopi Land Settlement Act of 1974 to codify the Bennett Freeze.
The freeze was intended to be a temporary measure to prevent one tribe taking advantage of another until the land dispute could be resolved. Because the conflict was nowhere near resolution, the prohibition on infrastructure development devastated both tribes for several decades. The federal ban also applied to maintenance of existing structures.
As such, nearly 7,000 people living in the Bennett Freeze area reside in housing conditions that haven't changed in half a century. Generations of families have been forced to live together in homes that lack electricity, running water, or natural gas.
In 2006, the Navajo and Hopi Tribes signed a historic intergovernmental compact that resolved their land disputes and ended outstanding litigation. The Navajo Nation, the Hopi Tribe, and the Department of the Interior all support congressional action to lift the freeze.
In 2008, the Senate passed a similar measure but the House of Representatives didn't act on the legislation before the end of the 110th Congress.
Senator McCain added, "Passage of this legislation was made possible by the Hopi and the Navajo Nations who set aside their past conflicts to negotiate government-to-government land use policy founded on cohabitation and mutual respect for sacred sites. Our next focus should be to promote economic opportunity and improve the housing conditions for those living in the former freeze area and ensuring the federal government upholds its obligations under the intergovernmental compact."
"With the 'Bennett Freeze' law off the books, the Arizona delegation can focus on working with tribal leaders and local communities to help our people help themselves. We're going to work to rebuild our crumbling infrastructure, improve our schools, and provide health care for everyone on tribal lands, so that people in greater Arizona have the same opportunities as everyone else," continued Rep. Kirkpatrick.
This bipartisan effort to remove obstacles to economic development on tribal lands is expected to be signed into law by President Obama within two weeks.