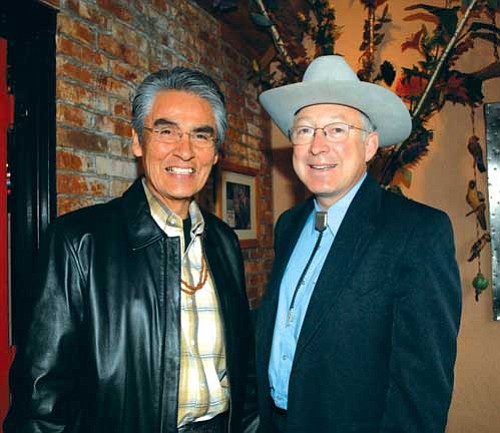 Originally Published: April 21, 2009 3:34 p.m.
ALBUQUERQUE, N.M. - Secretary of the Interior Ken Salazar met with Navajo Nation President Joe Shirley Jr. April 17 to discuss water, education, road and job training initiatives aimed at improving the quality of life for residents of the Navajo Nation, other American Indian communities and residents of New Mexico.
"I am committed to upholding the President's pledge to work directly with American Indian leaders to fulfill our treaty and trust obligations," Salazar said. "The federal government has an obligation to work directly with federally-recognized tribal nations on a government-to-government basis. Today's meeting with Navajo Nation President Shirley is just the first of many meetings to come."
A major topic of discussion was the Navajo-Gallup Water Supply Project, authorized in the recently enacted Omnibus Public Land Management Act that will provide a reliable source of clean, safe drinking water to a quarter million people in the eastern Navajo Nation, the City of Gallup and the Jicarilla Apache Nation. An estimated 70,000 Navajos are without access to running water and residents in parts of the Navajo Nation have had to haul water for generations.
"This vital project, championed by New Mexico Senators Jeff Bingaman and Tom Udall, reflects a 2005 agreement between the State of New Mexico and the Navajo Nation to settle the Navajo Nation's water rights claims in the San Juan River Basin," Salazar explained. "The Department of the Interior will play a major role in constructing the project and we will work closely with President Shirley, Navajo leaders and New Mexico officials to complete this much needed public water system."
The Omnibus Public Land Management Act authorizes the Department of the Interior and its Bureau of Reclamation to oversee the construction and rehabilitation of water supply infrastructure, restore fish and wildlife habitat and improve environmental conditions relating to the Navajo settlement. Resolving the Navajo water rights claims will provide certainty for the Navajo as well as large metropolitan communities such as Albuquerque and Santa Fe, which also plan to use water from the San Juan Basin for future supplies through the San Juan-Chama Project.
Secretary Salazar and President Shirley also discussed the importance of improving law enforcement and justice services, Indian education, and promoting Indian energy development. Salazar talked about investments for federally-recognized tribal governments and communities in the American Recovery and Reinvestment Act, which will build new schools and detention centers, improve roads, and provide business loans for economic development in Indian country. The Secretary will be releasing details on the specific Indian Country provisions of the Recovery Act in the near future.