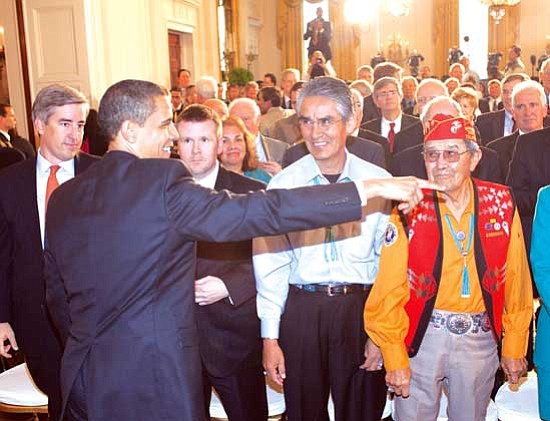 Originally Published: April 8, 2009 2:33 p.m.
WINDOW ROCK, Ariz. - Navajo Nation President Joe Shirley Jr., and Navajo Code Talker Frank Chee Willeto of Crownpoint, N.M., were guests of President Barack Obama at the White House last Monday for the signing of the Omnibus Public Lands Management Act of 2009, the first bill passed by the U.S. Senate this year.
"It is an extraordinary and wonderful day when both our honored Navajo Code Talkers and the Navajo Nation are acknowledged ... by the President of the United States," President Shirley said.
Included in the law is the authorization of the San Juan River Water Rights Settlement between the Navajo Nation and the state of New Mexico. The law clarifies the administration of Navajo Lake reservoir releases by affirming water quantities and distribution for projects such as the Navajo Indian Irrigation Project. It also designates more than two million acres across nine states as wilderness.
President Obama said the law, some parts which have taken decades to be enacted, wisely faces future challenges with regard to water and includes solutions to complex and long-simmering water disputes.
"It's hard to overstate the real and measurable impact this will have on people's lives," President Obama said. "People like Frank Chee Willetto, a Navajo Code Talker in World War II, who's joined us today. And because of this legislation, Frank, along with 80,000 others in the Navajo Nation, will have access to clean running water for the very first time."
Interior Secretary Ken Salazar called enactment of the bill "a Herculean first step in President Obama's agenda for our open lands."
The legislation contains the authorization for the construction of the Navajo-Gallup Water Supply Project, an $870 million water delivery system for Navajo communities from Shiprock to Gallup.
The project would provide water to the Eastern Navajo Agency, including Window Rock.
President Obama called it among the most important legislation in decades "to protect, preserve and pass down our nation's most treasured landscapes to future generations."
"Our lands have always provided great bounty, food and shelter for the First Americans, for settlers and pioneers, the raw materials that grew our industry, the energy that powers our economy. What these gifts require in return is our wise and responsible stewardship," he added.
The law will protect millions of acres of federal land as wilderness, protect more than 1,000 miles of rivers through the National Wild and Scenic River System, and designate thousands of miles of trails for the National Trails System. It also will authorize the 26 million-acre National Landscape Conservation System within the Department of the Interior.
Among other provisions, H.R. 146 designates three new units in our National Park System, enlarges the boundaries of several existing parks, and designates a number of National Heritage Areas.
More like this story